Impeachment Means Brazil's Bankers to Wage Inflation Fight Alone
by
Economists scrap calls central bank will cut interest rates

Political gridlock will stall measures that may curb inflation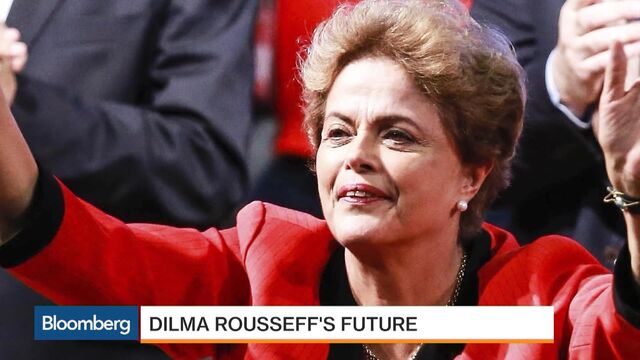 The difficult task of taming inflation in Brazil is about to fall squarely on the central bank. 
That's the conclusion economists have come to after a lawmaker initiated impeachment proceedings against President Dilma Rousseff last week, a move that's threatening to stall austerity measures aimed in part at helping quell the biggest surge in consumer prices in 12 years. Policy makers will keep Brazil's key interest rate at a nine-year high of 14.25 percent until 2017, a central bank survey of analysts released Monday showed. Just a week ago, they predicted the bank would cut borrowing costs starting in October.
While traders have seen no prospect for a reduction in rates, analysts from Standard Chartered Bank to MCM Consultores Associados until last week forecast the longest recession since the Great Depression would force the central bank to do just that. But with the push to oust Rousseff potentially sidelining the government for months, central bank officials will have to shoulder the burden of bringing down an inflation rate that topped 10 percent in November, said Luciano Rostagno, chief strategist at Banco Mizuho do Brasil.

"Congress will likely focus on the impeachment debate rather than the fiscal debate," he said by phone from Sao Paulo. 
The Central bank declined to comment on whether impeachment proceedings would affect austerity policies and necessitate higher borrowing costs to slow inflation. The Finance Ministry didn't respond to an e-mail and a phone call requesting comment on whether the outlook for passing such measures has shifted.
Lower house chief Eduardo Cunha said Dec. 2 that he accepted a request to impeach Rousseff, triggering procedures that may take months and involve several votes in Congress. The request accuses Rousseff of breaching Brazil's fiscal responsibility law in 2014 and 2015, including doctoring fiscal accounts. It also says her campaign received funds that stem from fraudulent activities.
A Supreme Court justice on Tuesday suspended for one week the creation of a congressional committee to evaluate impeachment proceedings. The decision came after the government was defeated in a vote to select members of the committee.
Rousseff, who started her second term in January, has denied any wrongdoing.
The impeachment process renders approval of a tax on financial transactions -- the government's most significant austerity measure at the moment -- even less likely, said Joao Augusto de Castro Neves, Latin America director for political risk consultancy Eurasia Group.
"We need some clarity on impeachment before new and more ambitious measures of the fiscal adjustment go forward," he said by phone from Washington.
The government argues the belt-tightening policies are needed to stem the deterioration of the nation's finances. Brazil's budget deficit is now equal to a record 9.5 percent of gross domestic product. 
Still, higher rates would come at the worst possible time for Latin America's biggest economy. Brazil's GDP will shrink 3.5 percent this year and 2.3 percent in 2016, according to the median estimate of about 100 economists surveyed by the central bank. That would be the deepest two-year contraction since at least 1901, according to the government's economic research institute, IPEA.
Brazil's real gained 1.6 percent Wednesday to 3.7361 per dollar as of 11:41 a.m. in New York.
With the prospect that higher rates could potentially damage the economy further, analysts at banks including Barclays Plc and Bank of America Corp. are sticking with their calls that policy makers will chop borrowing costs next year.
"There will be pretty weak growth, which is going to generate some sort of slowing in inflation," David Beker, Bank of America's chief Brazil economist and fixed-income strategist, said by phone.
But that view is no longer holding sway for Leandro Padulla, an economist at Sao Paulo-based consultancy MCM. On Friday, he abandoned his call that Brazil would slash the benchmark Selic rate by one percentage point next year, citing impeachment and minutes from the central bank's November meeting released Dec. 3.
In their statement, policy makers led by President Alexandre Tombini said the rising political and economic risks threaten to keep inflation above the bank's 4.5 percent target for longer than they expected. Later that day, central bank director Tony Volpon said the monetary authority needed to act and respond in "a forceful and timely way" to resume anchoring inflation expectations. He was one of two bank directors who voted for a rate increase in the central bank's first non-unanimous decision in over a year.
"The central bank would prefer not to hike, but they're trying to regain credibility," Siobhan Morden, head of Latin America fixed-income strategy at Nomura Securities International, said by phone. "The problem is fiscal policy, but monetary policy has to take the burden for fiscal policy that's still not working. That's the unfortunate dilemma."
Before it's here, it's on the Bloomberg Terminal.
LEARN MORE