ICAP's Spencer Offers Case of Claret Wine for New Company Name
by and
Technology business to grow organically and by acquisition

Charity Day will get even bigger following Tullett deal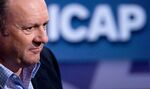 Michael Spencer has offered a case of fine wine to whoever comes up with the best name for ICAP Plc after it completes the sale of its voice-broking business next year.
"Anybody who comes with a name for the new ICAP, a case of very fine claret," ICAP's Chief Executive Officer Spencer said in a Bloomberg Television interview during the firm's Charity Day. "E-mail me, michael.spencer@icap.com, with your ideas. If you win, a case of very fine claret."
Claret is a term used by the English to describe red wines from Bordeaux. The region's left-bank first-growth estates include Chateau Lafite Rothschild and Chateau Latour. Spencer has said that Cheval Blanc 1982 is his favorite wine.
Last month, Tullett Prebon Plc agreed to buy ICAP's voice-brokerage division and its brand, allowing Spencer to transform the as-yet unnamed company into a business centered on electronic markets and post-trade services. The resulting business, referred to as ICAP NewCo in the company's press documents, includes its foreign-exchange and bond-trading platforms.
"There's an enormous amount of change in the technology part of the business, which is where I'm going to focus my time and effort," Spencer said in an interview with Bloomberg Television's Guy Johnson. "I'm going to grow it organically and through acquisition."
The deal between ICAP and Tullett follows BGC Partners Inc.'s takeover of GFI Group Inc. in February. Interdealer brokers have struggled globally as banks have scaled back their fixed-income, currencies and commodities operations, while years of low interest rates have suppressed volatility. Swiss firm Cie. Financiere Tradition SA is also a global broker.
"I have for several years said there's overcapacity globally in the interdealer voice-broking space and really there should be three global firms," Spencer said. "I think consolidation in that space is over."
ICAP's Charity Day is a fundraiser in which the firm gives away all revenue and commissions to good causes. The tradition -- in which the company's employees dress up in costume -- will continue and get even bigger after Tullett has finished its acquisition of ICAP's voice-brokerage business, Spencer said. Prince William and Olympic sprinting gold-medal winner Linford Christie are both attending Charity Day 2015.
Spencer was formerly the Tory party's treasurer and in 2011 became chairman of the Conservative Foundation, which is meant to help secure the Conservative
Party's finances. He warned before Britain's May election that he would
consider moving his firm abroad if Labour leader Ed Miliband won.
David Cameron beat Miliband in May. Now, the question is whether the U.K. will leave the European Union. Cameron has said a referendum on Britain's membership will be held by the end of 2017, though a date has yet to be set.
"On balance, I think the business would be better off if we stay in Europe," Spencer said. "But I personally haven't made my mind up as to which way I'm going to vote next year."
Before it's here, it's on the Bloomberg Terminal.
LEARN MORE