Goldin's Surge Brings Hong Kong's Pan $3.8 Billion One-Day Gain
by and
Real estate developer becomes Hong Kong's 4th-richest person

Majority owner Pan disclosed possible privatization in March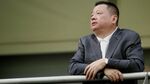 The fortune of Chinese billionaire Pan Sutong surged almost 60 percent Tuesday when Goldin Financial Holdings Ltd. jumped the most in more than six years and sister company Goldin Properties Holdings Ltd. soared on news he might bring the property business private.
Pan became Hong Kong's fourth-richest person on the increase with a net worth of $10.5 billion, according to the Bloomberg Billionaires Index, the latest in a string of big moves during 2015. The real estate developer and wine enthusiast increased his fortune by $23 billion to amass a total net worth of $27 billion in the first five months of the year before a one-day decline in May wiped out more than $11 billion. His wealth continued to fall before hitting bottom on July 29 at $2.9 billion.

The latest swing came as Goldin Properties asked the Hong Kong exchange to suspend trading of its shares pending the release "of an announcement in relation to a notifiable transaction which contains potential inside information of the company." Shares surged 30 percent on Tuesday.
Shares of Goldin Financial, which Pan also controls, extended Tuesday's 43 percent rally, jumping 17 percent on Wednesday to HK$19.90, the highest since May, as of 10:20 a.m. in Hong Kong. The shares have soared 164 percent this year.
Pan, who owns almost 65 percent of the business, first notified the Hong Kong stock exchange he was considering taking the developer private on March 17, and has issued monthly updates regarding his intentions in keeping with the Takeovers Code. The next deadline for Pan to notify the exchange is Dec. 16.
'Extreme Caution'
In March, Goldin Financial issued a statement, in response to inquiries by Hong Kong's Securities and Futures Commission, revealing that Pan owned a 70.29 percent stake and another 19 unnamed shareholders held 28.29 percent. The company also told prospective investors they should "exercise extreme caution when dealing in the shares," because of the high concentration of ownership.
The company, which had HK$574 million of revenue in the year ended June 30, 2015, has a market capitalization of HK$119 billion. Goldin Properties, which had HK$569.4 million of revenue in the year ended March 30, 2015, has a market capitalization of HK$28 billion.
Goldin Properties' sole real asset is an 89-hectare (220-acre) parcel of land in Tianjin that includes a 117-story office tower under construction, a Las Vegas-style entertainment district and polo fields surrounded by enormous villas with gold-plated shower heads and wine cellars, as well as dozens of apartment blocks.
Pan took both companies public through backdoor listings, which typically involves bypassing the traditional initial public offering route by using a reverse merger or the acquisition of another publicly traded entity. Norges Bank Investment Management disclosed a 1.31 percent stake in Goldin Properties as of the end of 2014, according to data compiled by Bloomberg. Vanguard Group held 0.8 percent at the end of October.
Before it's here, it's on the Bloomberg Terminal.
LEARN MORE