Dow, DuPont Merger Would Spark European Chemicals Scramble
by and
U.S. deal could lead Monsanto to make new offer for Syngenta

European rivals may buy assets put up for sale after merger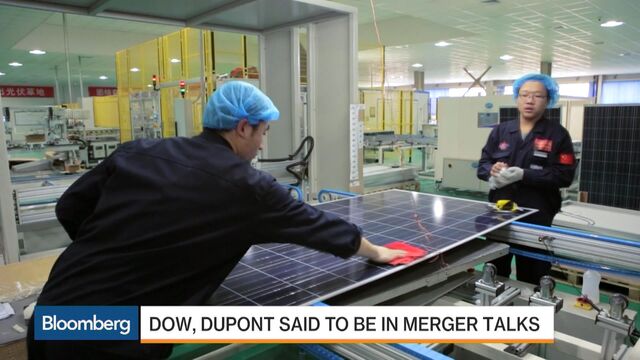 A mega-merger between Dow Chemical Co. and DuPont Co. stands to have far-reaching consequences for European rivals, prompting a series of follow-on combinations as pesticide and seed makers scramble to face the emergence of a U.S. giant.
Dow is in late-stage talks to merge with DuPont in what could be the largest deal in the chemicals industry, people with knowledge of the matter said Tuesday. The company would then break into two or three businesses for antitrust reasons, the people said.
The focus in Europe on Wednesday quickly turned to Switzerland's Syngenta AG, which almost four months ago fended off a $46 billion bid from Monsanto Co. Last month, people with knowledge of the matter said China National Chemical Corp. was initially rebuffed in an approach to buy the world's biggest producer of pesticides in what would be the largest acquisition ever by a Chinese company.
A Dow and DuPont merger "makes it more likely that Monsanto re-approaches Syngenta," Bernstein analysts including Jonas Oxgaard wrote in a note Wednesday. The bid could be at 485 Swiss francs, more than the 470 cash-and-stock offer withdrawn in August.
Potential Deals
DuPont and Dow, which have market capitalizations of about $58.4 billion and $59 billion respectively, have in recent months confirmed they were weighing options for their agricultural-chemicals businesses, both of which supply genetically modified seeds. There's been widespread speculation about potential deals in that industry as lower crop prices curb farmer spending.
Monsanto CEO Hugh Grant said last month that "everybody has been talking to everybody" in the industry while Chief Operating Officer Brett Begemann said the company is considering whether to begin another attempt to buy Syngenta.
"Monsanto could launch a takeover offer at any point" for the Swiss company, Martin Schreiber, analyst at Zuercher Kantonalbank, said by e-mail. "A merger between Dow and DuPont could put Syngenta in a bind."
Syngenta shares rose as much as 3.1 percent and were trading 2.3 percent higher to 368.20 Swiss francs as of 2:42 p.m. in Zurich. Shares in BASF SE were down 0.7 percent to 70.48 euros in Frankfurt while Clariant AG fell 0.3 percent to 18.20 Swiss francs.
Pressure on Monsanto
Any Dow-DuPont deal resulting in both the world's largest seed and pesticide company and the second-biggest chemical company after Germany's BASF AG could transform the competitive landscape of the industry as well as offer up assets to European players.
The pressure on Monsanto to defend its position as the biggest seeds player is probably "huge" as chemical companies will want to defend, or even strengthen, their market positions, said Oliver Schwarz, an analyst at MM Warburg.
The merger would create a strong competitor for European companies in the North and South American agrochemicals and seed markets, according to analysts at Baader Helvea. They estimate the combined U.S. companies would sell about 16 percent of the world's pesticides and would be the third-largest supplier of crop chemicals.
Assets For Sale
The regulatory hurdles to the transaction mean the combined company would have to sell off some businesses, presenting European peers with a window to make deals of their own, analysts said.
"There would certainly be assets for sale and those would probably be interesting to contenders such as BASF," said MM Warburg's Schwarz. "All the big companies that are swimming in this pond would probably be interested in taking over assets that Dow or DuPont would sell."
For its part, Swiss specialty chemical maker Clariant could make a strategic asset swap with its plastics and coatings business, according to Schreiber. Clariant is separating out this pigments and plastic resins business starting in January.
"It's not about getting bigger, it's about becoming more focused. That is a trend that we have been seeing for a long time," Bayer AG Chief Executive Officer Marijn Dekkers said at a press conference Wednesday. "Companies are saying that it's difficult to be positioned so broadly."
Before it's here, it's on the Bloomberg Terminal.
LEARN MORE