Remembering Doug Tompkins, the Founder of The North Face and Esprit Who Chucked It All to Save the Earth
A "deep ecologist," Tompkins died as naturally as he might have wished.
By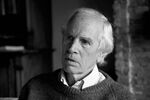 At least he died doing what he loved. That was paramount among a variety of similar sentiments appended to clips and links yesterday as news circulated that Doug Tompkins, founder of The North Face and Esprit and the new century's most ambitious conservationist, succumbed to severe hypothermia on Dec. 8, following a kayak accident on Lago General Carrera, on the Chilean-Argentine border. He was 72.
At the time of the accident, Tompkins was traveling with a group that included a few of his best friends: Yvon Chouinard, the founder of Patagonia; Rick Ridgeway, a member of the first American team to summit K2, the world's second-tallest peak; and Lorenzo Alvarez, owner of the adventure travel outfitter, Bio Bio Expeditions. Tompkins and Chouinard first explored the region together 50 years ago. A documentary of their 1968 first ascent of Fitz Roy, Patagonia's signature mountain, can be seen today as the secret origin myth—or, perhaps, the Zapruder film—of the $289 billion outdoor retailing industry.

The "Do Boys," as they sometimes called themselves, reunited regularly for fresh adventures. On this one, which Tompkins had mentioned last fall in an interview to Outside magazine, a sudden storm turned their 30-kilometer paddle into a fight for survival.
Wind drove waves twice a kayaker's height, capsizing their kayaks, and forcing the paddlers to swim in 4 degree Celsius (40 degrees Fahrenheit) water. A military patrol boat plucked three of the kayakers out. Despite the high winds, a private helicopter pilot managed to complete a rescue of two more boaters and to medevac Tompkins, whose body temperature reportedly dropped to 19 C (66 F). He was flown to a hospital in Coyhaique, about 1,000 miles south of Santiago. Doctors there were unable to revive him.
"Doug was the complete man—original thinker, world-class climber and kayaker, pilot, hugely successful businessman, designer, ecological visionary, and ornery S.O.B.," his friend Tom Brokaw said. The former NBC News anchor recalls that Tompkins pursued his hobbies and ideas with equal ardor. "We kayaked through the Russian Far East together and climbed a glacier route on Mt Rainier—and through it all, he never stopped lecturing me on deep ecology."
"I was in awe of him," Brokaw added.
In Chile, as in Argentina, Tompkins inspired suspicion, resentment, and at last, admiration. In 1991, he began buying up large tracts of land in a Chilean rainforest with the fortune he amassed at Esprit, the iconic 1980s women's wear brand he built with his first wife, Susie Tompkins Buell. Done, he later said, "making clothes and countless things no one needs," he left the company mid-career and used his retail profits to purchase a farm, along with 756,000 acres, with the stated goal of creating his own nature reserve. He dubbed it Park Pumalin, after the region's most charismatic megafauna.
Few Chileans believed a word of it. By the end of the '90s, Chile's then-president accused Tompkins and his second wife, Kristine (Kris), who had joined him there, of evicting tenant ranchers and denying them work. From there the accusations got only more fanciful: They were stealth Zionists come to form a new state. They were working with the CIA. Their real plan was to steal Chile's water and ship it to Africa. Any of these struck many Chileans as more probable than someone buying up land to take it out of production, return it to a natural state, and give it to the government for free.

Today, Pumalin Park is well-visited by Chileans, not merely by foreign tourists and journalists fascinated by Tompkin's expat adventure—although there have been plenty of those, too, including author William Langewiesche, who cast Tompkins as a Fitzcarraldo obsessive in an unflattering profile for the Atlantic.
Official Chile eventually came around, with the military contributing substantial tracts (and even forfeiting its requested artillery range) to endow Corcovado National Park, noted for its lakes and two volcanoes. In 2014, Chilean President Sebastián Piñera designated Yendegaia National Park, in Tierra del Fuego, a joint venture among Chilean conservationists, the government, and a Tompkins foundation. In all, the Tompkins have conserved nearly 2.2 million acres across the Patagonia region and won national park status for three parks that didn't exist before they got involved.
"National Parks are the gold standard for conservation," Tompkins said. "So our plan is to create the park, get them ready, and then turn them over ready to operate."
Parks, however, reflect neither the full range of Tompkins interests nor his success as a retailer, book publisher, activist, and architect. Like David Brower, longtime head of the Sierra Club, Tompkins became expert at hiring photographers and creating gorgeous coffee table books about the places he loved. He designed the lodging, dining areas, and grounds in each of his park headquarters. He evaluated techniques for restoring overgrazed fields. He led successful campaigns to defeat hydroelectric dams proposed for Patagonian rivers thousands of miles from the cities needing electricity.
Establishing parks also doesn't immediately suggest his commitment to Norwegian philosopher Arne Naess and his concept, first articulated in 1973, of "deep ecology." Naess holds that humans are only part of the web of life and not of singular importance; people have no right to diminish biological diversity.
Tompkins could be charming but also infuriating. Asked, for example, to appreciate why others might place unrelated political issues ahead of protecting the environment, Tompkins was unequivocal. "I'm a social justice supporter, but there is no social justice on a dead planet," he said. "If you want to destroy the planet, you can kiss social justice goodbye. The earth comes first."
Born in 1943, in Ohio, Douglas Rainsford Tompkins grew up in Millbrook, N.Y., and began climbing in the Shawangunk Mountains in junior high school. He dropped out of prep school (Connecticut's Pomfret School) and never went to college. He met his first wife while hitchhiking; even after they started a family and went into business together, they kept traveling, tossing their kids in the back of two-seat prop plane and flying off into the back country.
With a $5,000 loan, he and a friend founded The North Face in 1966, selling sleeping bags, camping gear, and clothes from a shop on the same block of Broadway, in San Francisco, as The Condor, Carol Doda's famous topless bar. The Condor and The North Face even shared a basement. Tompkins sold his shares well before it became a global brand (some reports say for as little as $10,000), but he went on to make his real fortune with Esprit. In the late 1980s, Esprit reached $1 billion in sales, although, contrary to rumor, Tompkins himself was not a billionaire.
Tompkins is survived by his daughters, Quincey Tompkins Imhoff and Summer Tompkins Walker; his brother, John; his mother, Faith; and his wife, Kris, who traveled to the hospital in Coyhaique.
When he and Chouinard and the merry band of climbers set off for Patagonia in 1968, they wanted to make a movie that would do for climbing what Endless Summer had achieved for surfing. The movie wasn't nearly as inviting as Endless Summer. Still, legend has it that while they waited out bad weather in an ice cave for 15 straight days, the two hatched plans for their respective companies. They completed their first ascent of Fitz Roy, and it fell to Tompkins to provide an account for the American Alpine Journal. In it, he recalled the elation of coming down out of the high-altitude frost and into austral summer below.
"It was Christmas day and what were we doing? Carrying 100-pound packs!" he wrote. "We looked back at 'Old Fitz', as we now called it, being on familiar and equal terms. We looked back, not as artists for we weren't artists, just five tired California Fun Hogs finishing up the trip of trips, licking the dish with a smile from ear to ear, and mustaches full of ice cream saying one to the other—'I believe we've done it. I believe we've done it.'"
(Correction: A caption in the original version of this story misstated the name of the park in which Kris and Doug Tompkins are pictured; it is Patagonia Park, not Pumalin Park.)
(
Corrects the name of The North Face throughout the article.
)
Before it's here, it's on the Bloomberg Terminal.
LEARN MORE