Don't Let China Iron Ore Buying Fool You: Xie Says Demand Is Bad
by
Higher volumes accompanied by record steel exports, Xie says

Iron ore may be `low price, stable margin' business for years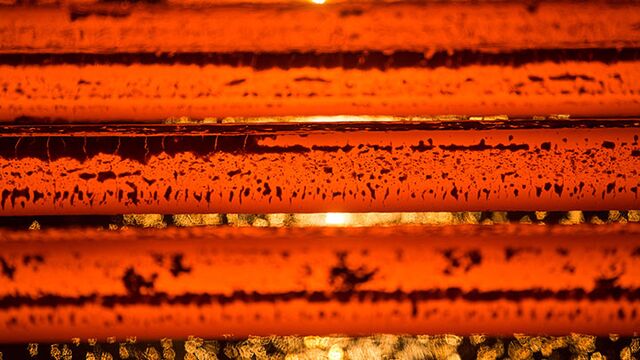 Don't be fooled into thinking China's surging iron ore imports are a proxy for the health of demand in the biggest user. They're masking an industry in trouble, according to the analyst who accurately forecast the price slump below $40 a metric ton.
"It's totally wrong to just look at the China import number to measure demand strength -- a lot of people were talking about that, I saw -- that's a market mistake," said Andy Xie, an independent economist who predicted in February that iron ore prices would sink into the $30s this year. "There's no aggregate increase in demand even if China is importing more because it's just translating" into steel exports, he said.
Data on Tuesday showed China's iron ore imports rose 22 percent last month and annual purchases may overtake last year's record 933 million tons. Steel exports have exceeded 100 million tons for the first time as mills battling losses stepped up exports to compensate for falling domestic demand amid cooling economic growth. China said on Wednesday it plans to cut export tariffs on steel billets next year, a move that may worsen global trade tensions.
Steel Demand
"Final demand for steel is dropping," Xie, a former Asia-Pacific chief economist at Morgan Stanley, said on Tuesday from Hong Kong in a phone interview, adding iron ore prices may remain below $40 next year as China's demand shrinks. "You look inside China, commodity prices are just inching down in a straight line from coal, iron ore, everything. The demand situation is very bad for all commodities."
China will reduce tariffs on pig iron and steel billet exports, the finance ministry said in a statement on its website. The steel deluge from China has threatened producers worldwide and aggravated trade disputes, with companies such as India's JSW Steel Ltd. decrying the cheap exports as unfair.
The fallout from steelmakers' struggles is hurting iron ore. Prices have tumbled 45 percent this year as producers including Vale SA, Rio Tinto Group and BHP Billiton Ltd. press on with expansions to cut costs and defend market share just as demand from the largest consumer China slows. Prices have plunged 80 percent from their peak in 2011.
'Wild' Forecasts
Xie has forecast a collapse since at least 2012, when prices averaged $129. In February, he predicted a drop below $40 this year when prices were trading in the $60s. Rio Chief Executive Officer Sam Walsh said the same month there were very "wild" forecasts in the market and that a drop to $30 is "fantasy land" that couldn't happen.
Ore with 62 percent content delivered to Qingdao rose 1.1 percent to $39.08 a dry ton on Wednesday, rebounding from yesterday's record low, according to daily prices compiled by Metal Bulletin Ltd. dating back to May 2009. The commodity, which plunged below $40 this week, advanced for the first time in eight days.
While iron ore has retreated with commodities from oil to copper this year, it remains well above levels seen in recent decades. The commodity traded as low as $10.51 a ton in 1988, when annual benchmark contracts were negotiated between the largest miners and steel producers, according to data from the International Monetary Fund. That pricing system was superseded by a shift to spot rates as China's demand ballooned.
"The rise was an exception and we're back to the old normal," Xie said. "Iron ore from an investment perspective will become a low price, stable margin and low growth industry for many years to come."
Crude-steel output in China will drop 23 million tons to 783 million tons next year, according to the China Iron & Steel Association. The nation's leading industry group has reported wider losses and noted that while official interest rates in China have been cut, mills faced higher funding costs.
Before it's here, it's on the Bloomberg Terminal.
LEARN MORE