CLSA: Now's the Time to Buy Shares of Chipotle
An opportunity to buy at a discount.
by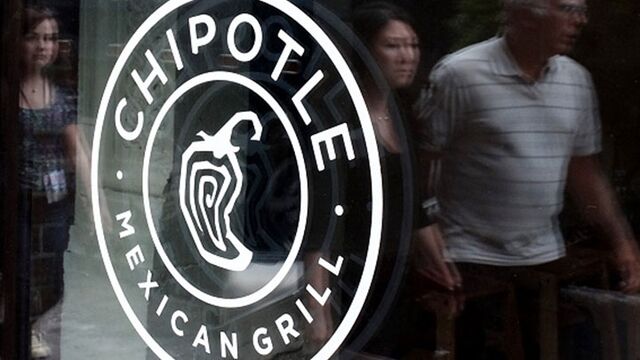 CLSA is stepping into the Mexican food breach, recommending that investors buy shares of Chipotle Mexican Grill as it initiates coverage on the stock.
This is interesting timing, given that Chipotle shares have been pressured lately, following an E. coli outbreak. According to CLSA, the reaction in Chipotle's share price offers an opportunity to buy equity in the company at a discount.

Still, the CLSA recommendation could be viewed as emblematic of Wall Street's long-time love affair with the Mexican-food chain. Only one analyst currently has a "sell" rating on the stock, according to Bloomberg data. Fifteen have "holds" or "market weight" recommendations, while 16 have "buys," adding up to an overall average price target of $579.50. CLSA's $645 target will be the fifth-highest, nudging out a $664 call from the brokerage BTIG.
"While news flow could cause volatility, we think the recent share price move offers an opportunity to build a position in a high-growth restaurant company at a discounted price," Diane Geissler and Jeremy Scott of CLSA said in a note. Many analysts emphasize the curious aspect: Chipotle, a pioneer in offering "food with integrity," faces issues with a number of stores temporarily closing because a number of customers fell ill. 
The question is whether the brand is permanently damaged. CLSA is of the mind that fallout from the outbreak will prove temporary, and the stock will ultimately recover. Here are a few additional reasons the team cites to back its "outperform" rating and $645 price target. 
Millennials
This generation has been a big part of Chipotle's success, and CLSA says that with the group's earning power not peaking until at least 2030, the company has a "long runway for growth."
Mobile
While Chipotle wouldn't be the first restaurant to try a mobile order-and-pay option, CLSA regards this as a great move that would increase sales, especially during the busy lunchtime hours. 
Labor Costs
With minimum wage increases across the country, and wage inflation showing signs of life, it will become more expensive to employ and keep good workers. CLSA points out that Chipotle has managed quite well so far. "The company has among the best labor productivity rates of its fast casual peers and latent pricing power, should it need to pull that lever in order to offset higher wage rates."
The bottom line from CLSA: Growth will continue and Chipotle can pull "a number of levers" to give it a boost if things start slowing down. 
Before it's here, it's on the Bloomberg Terminal.
LEARN MORE