Photographer: David Paul Morris/Bloomberg
Charting the Markets: Yuan Sets Four-Year Low
Mining stocks and commodities rattled again, and BASF gains on Dow Chemical-Dupont talks.
by
Today's inflation figures from China haven't unsettled markets like yesterday's trade data, which prompted the biggest sell-off in global stocks in almost a month. Consumer prices rose a bigger-than-forecast 1.5 percent in November, signaling demand is strengthening in the world's second-largest economy. Producer prices sank for a record 45th month. The MSCI All-Country World Index is little changed after dropping 1 percent on Tuesday.

China's yuan sank to the lowest level since August 2011 after the central bank cut the currency's reference rate. According to Bloomberg Intelligence the move is an attempt to release pent-up depreciation pressure ahead of next week's Federal Reserve meeting, which is likely to conclude with a U.S. rate hike for the first time in almost a decade. The People's Bank of China cut the yuan's fixing - which limits onshore moves to 2 percent on either side - by 0.1 percent to 6.4140 a dollar. Since China devalued the yuan on Aug.11 - by cutting the reference by 1.86 percent - the currency has sunk 3.3 percent, helped in part by its recent elevation to IMF reserve currency status. 

Global mining stocks resumed their sell-off after the biggest one-day drop in over three months. The Bloomberg World Mining Index - a gauge of the world's 80 biggest mining companies - sank almost 4 percent on Tuesday after weak China trade data. Yesterday's slump was compounded by news Anglo American is scrapping its dividend and slashing two-thirds of its workforce to counter a slump in commodities. Anglo shares have fallen a further 14 percent today after sinking 12 percent yesterday. The Bloomberg Commodity Index - which tracks 22 materials - has rebounded from yesterday's lowest close in 16 years. Crude oil has bounced back from its lowest close since February 2009. It finished Tuesday's session at $37.51 in New York, bringing the three-day decline to almost 9 percent.

BASF shares reieved an early boost, before falling back, after news emerged Dow Chemical and DuPont are in late-stage talks to merge. A combination between the two would be the largest in the chemicals industry and create the world's second-biggest company in the industry, behind Germany's BASF. It would also be the world's largest seed and pesticide company. The global crop-chemicals business is buzzing with mergers and acquisition activity. This year Switzerland's Syngenta has rejected takeover offers from Monsanto and ChemChina. Syngenta shares are also gaining.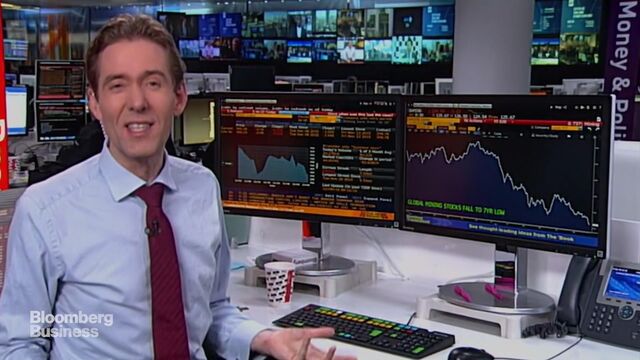 Mark Barton is a presenter on Bloomberg TV. Follow him on Twitter @markbartontv 
Before it's here, it's on the Bloomberg Terminal.
LEARN MORE