San Bernardino Attackers Radicalized Two Years Before Shooting
By
FBI director tells lawmakers couple discussed jihad in 2013

No direct ties uncovered with foreign terrorist groups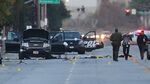 The California couple who fatally shot 14 people last week in what authorities are calling a terror attack had become radicalized and discussed martyrdom at least two years ago, FBI Director James Comey said Wednesday.
Syed Rizwan Farook and his wife, Tashfeen Malik, "were radicalized quite a long time before their attack," Comey said in testimony to the Senate Judiciary Committee. The couple talked about jihad and martyrdom in online communications as early as late 2013, well before they were engaged and married, he said.
Comey's testimony focused on the broader challenge for the U.S. of detecting home-grown extremists before they act. These so-called lone wolves often operate in isolation and are radicalized by using the Internet in their own homes. FBI agents can't count on being able to intercept communications between potential terrorists on American soil and jihadists being monitored overseas.
Rizwan, 28, and Malik, 27, killed 14 and wounded 21 in an attack on a Dec. 2 holiday party for county workers in the Los Angeles suburb of San Bernardino. Farook had been employed by San Bernardino County for five years, most recently as an environmental specialist, and had worked with some of the victims. He and Malik opened fire on the crowd with semi-automatic rifles and handguns. They were later killed in a gun battle with police.
Allegiance Pledged
In the moments before the attack, Malik posted on Facebook a pledge of allegiance to the leader of Islamic State, and FBI officials have said they suspected the couple had been inspired by Islamic State or other terror groups. Farook was a U.S. citizen and born in this country. His wife had a Pakistani passport but had lived in Saudi Arabia. She entered the U.S. in July 2014 on a fiance visa that she obtained in Pakistan.
So far, Comey said, FBI agents have not uncovered any direct ties between Farook and Malik and any terror groups, including Islamic State, which predominantly operates in Syria and Iraq. Comey and other law enforcement officials have said that it did not appear the couple were part of a cell or had been directed to act.
"We believe they were inspired by foreign terrorist organizations," Comey said. "We are working very hard to understand their association and the source of their inspiration. We are working very hard to understand if anyone else was involved with assisting them, supporting them or equipping them."
Encrypted Communications
Comey told lawmakers that part of the challenge authorities face in detecting lone wolves involves attackers' use of encrypted communications that authorities cannot crack, even with a court order.
Major technology companies, including Apple Inc. and Google Inc., began encrypting their phones last year. Other communication firms have long encrypted their applications and email systems.
Comey has said the FBI has detected members of Islamic State reaching out to potential recruits on social media, particularly Twitter. Once contact is made, the terrorists direct their potential recruits to use encrypted technologies, Comey has said.
He said today that the bureau has discussed encryption tools with technology companies about their encryption tools, though he did not specify the nature of the talks or which firms were involved. He said it was clear the companies cared about ensuring the safety of the public while respecting the privacy of their users.
Texas Attack
"The conversation with the companies has been good," Comey said. "We are not at war with each other. It's not a technological problem. We are not going to break the Internet."
One illustration of the problem, Comey said, was an incident in May in which two radicalized Muslims, both heavily armed and wearing body armor, were slain by local police during an attack on an exhibition of cartoons of the Prophet Muhammad in Texas. One of the men exchanged 109 messages with an overseas terrorist in the hours before the attack, Comey said.
"We have no idea what he said because those messages were encrypted," Comey said. "To this day, I cannot say what he said to that terrorist. That is a big problem. We have to grapple with it."
Terrorists know that law enforcement authorities have trouble winning court orders to access mobile messaging applications, Comey said.