Brazil Supreme Court Halts Creation of Impeachment Committee
by
Committee members must be elected in an open vote, judge says

Court decision shows how complex process is going to be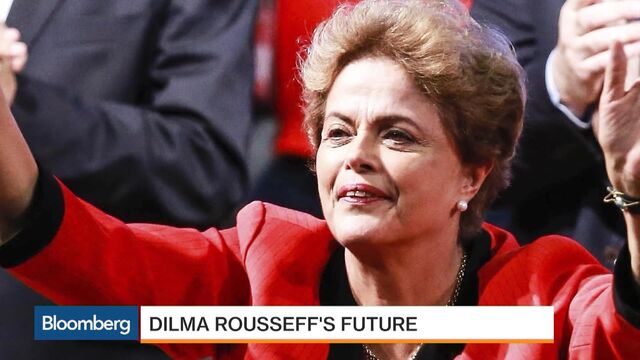 A Brazilian Supreme Court justice suspended the formation of a congressional committee that would recommend whether to continue impeachment proceedings against President Dilma Rousseff after the government suffered a setback in Congress.
Judge Luiz Edson Fachin issued the ruling Tuesday night, just hours after the lower house of Congress accepted the committee members who were appointed by the opposition. In a tumultuous session marred by physical scuffles between congressmen, pro-government lawmakers objected to the vote, saying it should have been public. The 65-member committee is supposed to hear Rousseff's defense and recommend whether the full lower house should allow impeachment hearings to start in the Senate.
Members of the committee must be chosen by party leaders and elected in an open vote, Fachin said. Congress must hold off on any other activities related to impeachment until the court rules next week on the rest of the challenge, said the judge, who was appointed to the top court by Rousseff this year. His ruling came in response to a challenge issued by the pro-government Communist Party, which is contesting the legality of impeachment.
Fachin's decision indicates how complex impeachment proceedings could become, said Thiago de Aragao, partner and director of strategy at political-risk consulting company Arko Advice. Congress may hold several different votes during a process that could drag on for months, preventing lawmakers from approving fiscal measures that are designed to end the recession.
Assets Rallied
Local assets rallied on Wednesday as investors paid little attention to the court ruling, focusing instead on the opposition ability to form a commission filled with pro-impeachment lawmakers. The real appreciated 2 percent to 3.7234 per U.S. dollar at 3:24 p.m. local time, snapping two straight days of declines.
In another sign that Rousseff may be losing support in Congress, the largest allied party on Wednesday demoted its leader in the lower house who was seen as close to Rousseff.
Traders and investors bet Vice President Michel Temer would be able to create a stronger government committed to shoring up fiscal accounts should he replace Rousseff.
In their request to oust the president, lawyers accuse Rousseff of breaking fiscal laws by white-washing budget figures and bypassing Congress to authorize spending. Rousseff aides said the practice was common place in previous governments and does not constitute legal grounds for impeachment.
Before it's here, it's on the Bloomberg Terminal.
LEARN MORE