business
Stocks in U.S. Rebound With Dollar Amid Fed Countdown; Oil Sinks
By and
S&P 500 rises for first day this week as energy stocks rally

WTI crude slips below $37 a barrel as OPEC backlash endures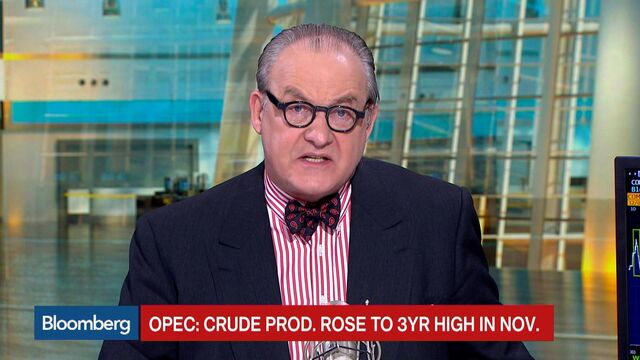 U.S. stocks rose for the first time in four days, while the dollar strengthened as investors started counting down to next week's Federal Reserve meeting, where officials are expected to raise interest rates. Crude oil fell for a fifth day.
The Standard & Poor's 500 Index almost erased a 1 percent gain in the final 90 minutes of the session, with the advance stalling at the gauge's average price for the past 200 days. Thursday's climb was the first since a 2.1 percent bounce last Friday as payrolls data hardened the consensus on Wall Street for a Fed rate hike. The dollar rose for the fourth time in five days versus major peers as Citigroup Inc. said the currency was "attractive" again. U.S crude sank below $37 a barrel to extend its six-year low.
"We're in a waiting period here ahead of the Fed meeting," said Joe Bell, a Cincinnati-based senior equity analyst at Schaeffer's Investment Research Inc. "Energy has been the most volatile sector in a broader market over the last couple weeks and U.S. equities seem to be tracking it. We bounced back off yesterday's lows and today we're right at the lows for December, and that area is holding."

The Fed is expected to confirm at its last meeting of the year that policy makers view the world's biggest economy as strong enough to cope with the first increase in borrowing costs since 2006. That said, investors are caught between optimism over U.S. growth and concern that a slowdown in China and the consequent tumble in commodity prices will damp prospects for the global economy. Oil's slump since OPEC decided to abandon its output target despite evidence of a worldwide glut has unsettled financial markets.
Stocks
The S&P 500 rose 0.2 percent to close at 2,052.23 by 4 p.m. in New York, ending just below its 50-day moving average. The gauge is down 0.3 percent for the year after closing 3.7 percent away from its all-time high set in May. The S&P 500 climbed to within 1.4 percent of the record last week.
Energy shares paced gains, rising 0.6 percent even as crude extended its losses. Industrial shares climbed as airlines led the advance, while materials producers fell 0.8 percent as DuPont Co. and Dow Chemical Co. gave back some of Wednesday's gains.
"There's been a lot of positioning ahead of the Fed with people taking down exposure ahead of a likely rate increase," said Michael James, managing director of equity trading at Wedbush Securities Inc. in Los Angeles. "We continue to be in a trading range, we're at the low end of that range."
Data Friday on retail sales and producer prices in the U.S. will probably show stronger growth for November, according to economists surveyed by Bloomberg. The reports aren't expected to effect the Fed's decision, with traders pricing in a 76 percent chance that rates will be boosted on Dec. 16.
The Stoxx Europe 600 Index fell 0.3 percent for a third day of losses as a rally in commodity producers failed to lift sentiment. The region's shares earlier extended their lowest levels since Oct. 21 as most industry groups declined. 
Bonds
Yields on 10-year Treasury notes rose one basis point, or 0.01 percentage point, to 2.23 percent, halting a four-day drop. Thirty-year yields were little changed at 2.97 percent on Thursday.
In the lead-up to the Fed decision, investors are the most bullish on Treasuries since 2013, according to a JPMorgan Chase & Co. survey of clients on Monday. A rout last week that drove two-year yields to a five-year high helped lure buyers anticipating that the Fed will stick to a gradual pace of rate increases.
Benchmark German 10-year bund yields fell three basis points to 0.57 percent. Rates on similar-maturity Spanish bonds dropped one basis point to 1.62 percent, and those on U.K. 10-year securities declined four basis points to 1.83 percent.
Currencies
The Bloomberg Dollar Spot Index rose 0.4 percent, rising from near its lowest level in a month. The greenback is a good buy following its reversal, said Steven Englander, Citigroup's New York-based global head of Group-of-10 currency strategy. The dollar advanced versus most of its major peers Thursday.
The euro declined against all except four of its 16 major counterparts, as weak French economic data provided a reminder of the challenges facing the region's policy makers as they seek to kick-start growth and inflation. The Colombian peso strengthened the most among emerging-market currencies, rebounding from a record low reached Wednesday.
Emerging Markets
The MSCI Emerging Markets Index fell for a seventh day in its longest losing streak since an August selloff sparked by concerns over China. The gauge dropped 0.8 percent as its 14-day relative-strength index slid to 30.5, near the 30 threshold that some traders see as a signal a market is set to rebound.
In Latin America, traders have snapped up assets from countries showing a shift away from the populist leadership of the past decade. Venezuelan bonds climbed to the highest since May after the opposition on Sunday won a majority in Congress for the first time in 16 years. 
The Global X MSCI Argentina exchange-traded fund has seen assets under management jump since polls first showed a business-friendly candidate was likely to win the presidency in last month's elections. Investors have piled into the biggest Brazil stock ETF as lawmakers initiated impeachment proceedings against President Dilma Rousseff.
Commodities
Oil settled at a fresh six-year low as speculation that OPEC will keep markets oversupplied outweighed a drop in U.S. crude stockpiles. The group raised production to a three-year high in November.
Futures have fallen 11 percent in New York since OPEC's Dec. 4 decision to effectively allow members to pump as much oil as they see fit. West Texas Intermediate dropped 1.1 percent to close at $36.76 per barrel, while Brent crude fell 1.4 percent to end the day at $39.55.
Gold slipped 0.4 percent to $1,072 an ounce. Next week's meeting of the Fed, which will probably see borrowing costs boosted for the first time since 2006, is damping the allure of the metal because it doesn't pay interest.
— With assistance by Alex Longley, Ye Xie, Emma O'Brien, Liz McCormick, Alan Soughley, Mark Shenk, Benjamin Bain, and Rachel Evans
Before it's here, it's on the Bloomberg Terminal.
LEARN MORE