Anglo's Shadow Hangs Over Glencore Investor Day as Shorts Circle
by
Commodity rout, Glencore's debt burden luring short interest

Shorting ahead of investor day a risky call, says analyst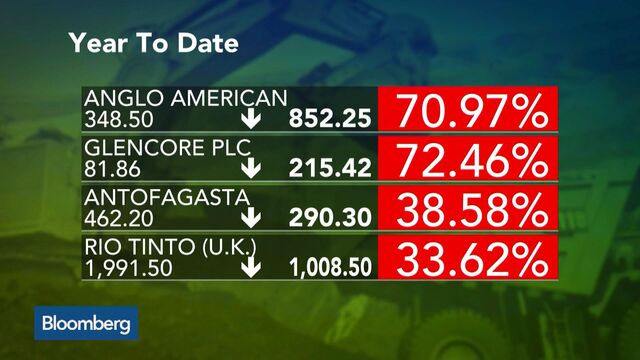 Short sellers sensed something was amiss at Anglo American Plc this month, pushing bearish bets against the miner to a record high on the eve of yesterday's investor meeting. It paid off when the stock plunged 12 percent after announcing a dividend cut.
Are they on to something at Glencore Plc too? Short interest has been rising ahead of the Swiss company's shareholder day tomorrow, climbing to a two-year high of 5.3 percent of shares outstanding, according to Markit Ltd.
A multitude of concerns could be driving the bets. Combined with a 27 percent plunge in copper this year, Glencore's debt burden is putting pressure on Chief Executive Officer Ivan Glasenberg to deliver on a $10 billion debt-cutting plan. At the meeting, executives are expected discuss measures to achieve that goal.
"It's the interaction between the low commodity-price environment and the debt on the balance sheet," said Tyler Broda, an analyst at RBC Capital Markets in London. "It definitely adds to the challenges facing management at the moment because the overall environment remains negative."

Broda isn't a bear. He suggests buying Glencore shares before tomorrow's meeting in anticipation of asset sales and operational improvements. Still, he says, weak commodity prices will continue to cloud the longer term.
Shorts are probably using Glencore as a proxy to play the slump in copper and coal prices, says Marc Elliott, the mining analyst at Investec Plc whose bearish research spurred a record drop in the shares in September. Still, any good news out of tomorrow's meeting and those bets might go the wrong way.
"Typically, they present a good story on their investor updates," Elliott said in an interview. "Going short ahead of the investor day is quite a risky call."
Compared to peers with high short interest, Glencore's isn't that high. That might be because getting hold of stock to short can be difficult -- five of the company's eight largest shareholders are directors. Wm Morrison Supermarkets Plc and J Sainsbury Plc are the most shorted companies in Britain's FTSE 100 Index, with more than 17 percent of shares outstanding.
Representatives for Glencore and Anglo American declined to comment on the short interest.
Anglo's announcement yesterday that it would halt its dividend payout came during a particularly gloomy day for commodity markets. Disappointing economic reports out of China sparked renewed worries about a global slowdown in demand, sending the Bloomberg Commodity Index, down 24 percent this year, to its lowest level since 1998.
Glencore's debt is adding to price slump woes. It's the biggest in the industry at $30 billion, and it's also among the most expensive to insure in Europe, according to data from S&P Capital IQ. Anglo's debt -- at about $12 billion -- is the next riskiest to insure.
"It's the usual suspects, you go for anybody that's leveraged," said Paul Gait, an analyst at Sanford C. Bernstein Ltd. in London, referring to short sellers. "You look at the balance sheets and go: Glencore, Anglo American, boom, boom, job done."
Peter Grauer, the chairman of Bloomberg LP, the parent of Bloomberg News, is a senior independent non-executive director at Glencore.
Before it's here, it's on the Bloomberg Terminal.
LEARN MORE