'Spotlight' Puts Theaters' Own Studio Out Front in Oscar Race
By
Largest chains backed film pegged as Academy Award favorite

Open Road Films was started because studios cut back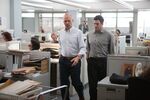 Hollywood movie studios spend millions of dollars promoting their Oscar contenders in the final months of the year, yet the favorite to win the Academy Award for best picture of 2015 is a film backed by the two biggest U.S. theater owners.
"Spotlight" stars Michael Keaton and Mark Ruffalo as the Boston Globe journalists who broke the story about the Catholic Church hierarchy's cover-up of a pedophile scandal. The picture has a 9-2 chance to win best picture, according to a panel of critics, writers and others surveyed by GoldDerby.com, an industry website.
A big nomination would burnish the artistic reputation of Open Road Films, which was founded almost five years ago by Regal Entertainment Group and AMC Entertainment Holdings Inc. That could come as soon as Thursday when the Golden Globes nominations are announced by the Hollywood Foreign Press Association. "Spotlight" is a shoo-in to be a finalist for best drama, according to GoldDerby.

"It does change a lot," Chief Executive Officer Tom Ortenberg said in an interview. When Open Road is associated with high quality movies, "people in Hollywood, they take notice."
Regal and AMC operate far from the glitz and glamor of the film industry. AMC, based in Kansas City, Missouri, was taken over by China's Dalian Wanda Group Co. in 2012 and went public the next year, while Regal is based in Knoxville, Tennessee. The companies created Open Road in 2011 to acquire and distribute films because Hollywood studios weren't making enough to fill their seats.
In recent years, studios like Warner Bros., owned by Time Warner Inc., and Walt Disney Co. have focused on a smaller number of big-budget releases based on known properties such as DC Comics or Marvel, while cutting back on less expensive, star-driven dramas. Making sequels is seen as less risky than producing original concepts.
That created a void for films like "Spotlight," which appeal to fans outside the younger demographic that the studios target with blockbuster films. Last year the company also distributed the critically acclaimed "Nightcrawler" and "Chef."
Potential Oscar winners, while often not as big commercially as a superhero film, can enjoy an extended run in theaters, bolstered by publicity surrounding annual nominations and awards.
Still, the awards are dominated by the major Hollywood studios. 20th Century Fox backed the last two Oscar winners and this year has "The Martian," the Matt Damon space adventure. It's running second at GoldDerby at 7-to-1. The film has generated $573.3 million in worldwide ticket sales, according to Box Office Mojo. Fox also has No. 3, "The Revenant."
Open Road hasn't had a big impact on the box office yet. It has distributed six films this year, including "Spotlight," and has generated just $59 million at the domestic box office, out of a total of $9.97 billion.
"It's not a major driver yet, but it's profitable and getting there," said Eric Wold, an analyst with B. Riley & Co.
Changes in the entertainment industry have sometimes led to tensions between cinema chains and studios. Both are under pressure from digital distributors like Netflix Inc. that have drawn fans away from cinemas and DVDs. Theaters have also been resisting pressure from studios to shorten the months of exclusivity they typically get before movies go to home video.
Amid the turbulence, Open Road is giving the theater chains more control over what's shown onscreen. While the company was formed originally to fill the gaps left by studios, the ambitions have changed, said Ortenberg, an executive producer of the film.
"Spotlight," which cost $15 million to produce, is one of Open Road's biggest risks to date. The company got involved when it was just a script, said Ortenberg, a former executive at Lions Gate Entertainment Corp. and The Weinstein Co. "Sleepless Night," a thriller due in 2016, will be its first fully financed movie produced in-house, he said.
"When we were first starting four-plus years ago, we weren't in a position to help create our own movies," Ortenberg said. Now, the distributor can "get involved earlier, like we did at the script stage with this, and help shape things."