Yellen Powers of Persuasion Face Test to Avoid Liftoff Dissents
by
Fed tries to display unity at key turning points in policy

An FOMC statement emphasizing gradual might win doves' support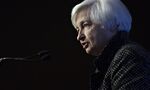 Janet Yellen says she tolerates dissent. But judging from 20 years of Federal Reserve history, the Fed chair will use all her powers of persuasion to secure unanimous support for an interest rate increase if she decides to pursue one next week.
The Fed has a track record of closing ranks at key turning points in monetary policy. Officials united at the start of the 1994 and 2004 tightening cycles, while Dallas Fed chief Richard Fisher and Charles Plosser of Philadelphia overcame their hawkish instincts and voted to lower rates to nearly zero in 2008.
Now, as Yellen weighs the first Fed rate rise since 2006, she must convince colleagues on the Federal Open Market Committee who are skeptical of the need for higher rates, while avoiding a hawkish dissent if she promises too much, in order to deliver an undivided policy front that would enhance the decision's credibility.
"I don't need unanimity, I think we have to tolerate some dissent," she said in response to a question after a speech in Washington on Dec. 2. "Nevertheless, I think for the FOMC to be successful and to communicate a coherent policy to the public, we do need a certain degree of consensus."

Officials meet Dec. 15-16 and are widely expected to raise the benchmark federal funds rate by a quarter percentage point from near zero, where it has been held since December 2008. Governors and the New York Fed chief have permanent policy votes, while presidents of the Fed's other 11 regional banks vote on a annually rotating basis.
'Create Problems'
Frederic Mishkin, a Columbia University economist and former Fed governor, said that he considered dissenting in December 2007 because he felt the FOMC was moving too slowly to counteract the weakening economy. In the end he supported Chairman Ben S. Bernanke because a dissent "would create problems for the chairman who was trying to do the right thing."
"When a central bank speaks with one voice, it is immensely powerful and makes its policies more effective," Mishkin said. "In very key periods, having the FOMC speak with one voice is much more important. FOMC participants understand this. It is much more likely you can have them come on board when it is important to do so."
Four of the FOMC's 17 current policy makers favored delaying liftoff until 2016, according to the forecasts submitted before the committee's September meeting, with one also advocating no increase until 2017.
Dovish Wing
While the forecasts don't identify the four officials, Chicago Fed President Charles Evans, governors Lael Brainard and Daniel Tarullo, and Minneapolis Fed President Narayana Kocherlakota have all publicly argued for a slow approach to tightening. Kocherlakota, who departs the central bank at the end of the year, is not a 2015 policy voter. 
Richmond Fed chief Jeffrey Lacker dissented in September and October in favor of tighter policy and could do so again if the committee makes a commitment that he views as too dovish to explicitly emphasize that the pace of subsequent rate increases will be gradual.
"The FOMC will be trying to minimize dissents at the time of liftoff," said Jonathan Wright, a professor at Johns Hopkins University in Baltimore and a former Fed economist. "The committee might further reinforce how gradual the tightening will be, in order to persuade members like Lael Brainard and Dan Tarullo, who have misgivings about liftoff this year, to vote for a rate hike." 
Gradual Pace
Fed officials "generally agreed that it would probably be appropriate to remove policy accommodation gradually," according to the minutes of the October meeting, and the pace of increases "would be the more important influence on financial conditions" than the timing of liftoff.
Chicago's Evans on Dec. 1 said while he favors a "later liftoff than many of my colleagues," the pace of tightening matters more and it could be appropriate for the federal funds rate to be less than 1 percent by the end of next year.
Tarullo, in a Bloomberg Television interview in November, said that forces pushing inflation below the Fed's 2 percent target could persist while Brainard argued for a "cautious and gradual approach to adjusting monetary policy" in a Dec. 1 speech.
Unlike regional Fed presidents, governors rarely dissent. The last one voting against the chairman was Governor Mark Olson in September 2005, when Alan Greenspan was at the helm and Olson argued in favor of pausing a rate-tightening campaign in the aftermath of Hurricane Katrina.
Growing Dissents
The number of dissents has been growing. Yellen and Bernanke endured more than twice as many dissents as Greenspan in the years since he stepped down in January 2006 compared with the number he faced during the final decade of his chairmanship.
Yet the Fed's credibility is also enhanced by unanimity, said Vincent Reinhart, former monetary affairs director at the Fed and a visiting scholar at the American Enterprise Institute in Washington.
"A plan involves a sequence of policy firmings, and if it is understood by markets, the restraint gets built in before the actions," he said. "The theory runs that you need unanimity at the beginning to signal that all participants are on board to vote for the subsequent tightenings to fulfill the plan."
Recent economic data, including a 211,000 gain in payrolls in November, has helped to boost the odds the FOMC will act at its next meeting. Investors have raised to about 78 percent the probability of a rate increase by policy makers' December meeting, according to pricing in the federal funds futures market.
In his memoir "The Courage to Act," Bernanke recalls how he met with governors and presidents in an effort to win their support in advance of meetings. Before one FOMC gathering, Yellen had dinner with Betsy Duke, who agreed to support asset purchases, or quantitative easing in 2010, according to Bernanke.
Duke, a former Fed governor who never dissented, said in an interview she nonetheless feels "diversity of opinion is a strength. But a stronger majority certainly sends a stronger signal."
Before it's here, it's on the Bloomberg Terminal.
LEARN MORE