Year of Distress for Debt-Burdened Oil Firms Just Got Even Worse
by and
Yields on commodity-related bonds climb to 2009 levels

About 43% of debt from sector trades below 80 cents on dollar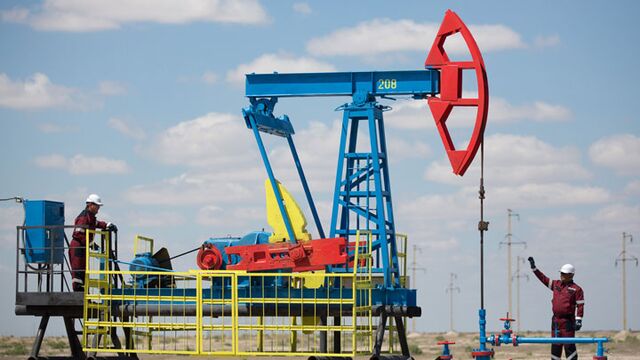 Just when it seemed things couldn't get worse for debt-laden energy companies, a renewed rout in oil prices is deepening their distress.
As crude plunged to the lowest in more than six years, the average yield on the debt of speculative-grade oil and gas borrowers climbed to 13.4 percent, the highest since the waning days of the global financial crisis in 2009 and the widest divergence ever relative to the broader U.S. junk bond market, Bank of America Merrill Lynch index data show. That's likely to push more companies to ask their bondholders to restructure debt to avoid bankruptcy, according to corporate-turnaround adviser Stroock & Stroock & Lavan LLP.
Bonds of Chesapeake Energy Corp. led the declines on Monday with the biggest drop, with Oasis Petroleum Inc. also sliding.

"It's bad and it's going to get worse," said John Lekas who helps manage $1.1 billion at Portland, Oregon-based Leader Capital. "There's a lot of confusion over the path of energy prices and the illiquidity of high yield is exacerbating that confusion."
'Be Realistic'
Because high-yield borrowers make up such a large portion of junk bonds issued in recent years, the fresh turmoil is compounding what is poised to be the market's first annual loss since 2008. Speculative-grade bonds lost 2.74 percent through Monday, the Bank of America Merrill Lynch index data show. Yields in the $1.35 trillion U.S. junk bond market have risen to about 8.4 percent -- a four-year high.
"Investors will have to be realistic about the alternatives unless they think they have a magic wand to change the oil price," said Frank Merola, a partner in the restructuring group at Stroock & Stroock. "That means borrowers might be able to pull off more debt exchanges in the coming months to avoid bankruptcies."
Oil's falling amid mounting concern that a record global glut in the commodity will be prolonged after the Organization of Petroleum Exporting Countries effectively abandoned its longtime strategy of limiting output to control prices.
Brent crude fell below $40 a barrel for the first time in almost seven years declining 2.1 percent to $39.88 a barrel at 1:45 p.m. London time Tuesday, the lowest since Feb. 20, 2009.
The price of oil could fall as low as $20 a barrel, according to Goldman Sachs Inc. as "the downside risk to oil remains highly elevated," chief credit strategist Charles Himmelberg wrote in a note to clients.
The number of companies that are rated in the lower tiers of junk and have negative outlooks has risen to the highest in five years, according to Moody's Investors Service and Standard & Poor's. With about 43 percent of high-yield energy bonds trading below 80 cents on the dollar, according to data compiled by Bloomberg, it's becoming increasingly difficult for investors to buy and sell with ease.
"I can't see an average mutual fund stepping into energy high yield at these
levels," said Steven Azarbad, chief investment officer at Maglan Capital, a New York-based distressed hedge fund. "This is really a distressed investing market."
He said the "scramble for liquidity" was such that investors "are becoming less sensitive to price. People just want to get out."

Chesapeake Energy, the second-biggest U.S. natural gas producer, saw its $1.3 billion of 6.625 percent bonds plunge almost 7 cents on Monday to 32.75 cents on the dollar, according to Trace, the bond-price reporting system of the Financial Industry Regulatory Authority. Oil producer Oasis Petroleum's $1 billion of 6.875 percent notes due 2022 fell 5.5 cents to 79 cents.
Investors have redeemed $3.25 billion from mutual and exchange-traded funds that buy high-yield bonds this year, according to Lipper. Shares in the SPDR Barclays High Yield Bond ETF, which has $11 billion of assets, slid to $34.84 on Monday, the lowest since July 2009.
"There is energy fatigue," said Sabur Moini, a Los Angeles-based money manager at Payden & Rygel, which oversees about $95 billion in fixed-income assets. "It's been a long year for high-yield managers. So many names have been beaten up. This is getting worse, not better."
Before it's here, it's on the Bloomberg Terminal.
LEARN MORE