VW Scandal 'Changes Everything' on Heathrow Data, Goldsmith Says
by
Cameron would be right to delay decision on runway capacity

London mayoral candidate regrets airport resignation pledge
Zac Goldsmith, the London mayoral candidate for Prime Minister David Cameron's Conservative Party, said the government should delay a decision on expanding the U.K. capital's Heathrow Airport after Volkswagen AG pollution data were shown to be false.
Goldsmith, who has pledged to resign as the House of Commons lawmaker for Richmond in west London if Cameron backs additional capacity at Heathrow, said the rigging of vehicle-emissions data by VW means that figures used by Howard Davies's Airports Commission to make the case in favor of a new runway at the hub should not be trusted.

"The VW scandal genuinely changes everything," Goldsmith told reporters at a lunch in Parliament in London on Tuesday. "It means the data on which all of the Airports Commission's assumptions are based is not only flawed, but is known to be fraudulent. If the government were to decide to go ahead with the Airports Commission's recommendation now, it would be doing so on the basis of evidence we know is wrong."
Goldsmith is second favorite behind Labour's Sadiq Khan in the race to succeed the Tories' Boris Johnson as London mayor next year. Some U.K. newspapers have reported that Cameron is seeking to delay a final decision on increasing airport capacity until after the election on May 5 to help his candidate. The prime minister gave a "guarantee" on July 1 that he would made a decision on increasing airport capacity in southeast England by the end of this month.
'Too Long'
The decision over whether to expand Heathrow or build an additional runway at Gatwick, to the south of London, has taken "far too long," Goldsmith said, but he argued that the government would be justified in delaying if it was to gather better evidence.
"If the government says 'we are going to ask Heathrow and Gatwick to go away and prove to us that, despite all these shenanigans, their proposals can keep us within our legal limits,' that would be a legitimate exercise for the government to do," Goldsmith, said. "What would not be acceptable would be for the government to say we want to go with Heathrow expansion, but we're not going to sign on the bit of paper for six months, because then it would look like political game playing."
Goldsmith said he regrets vowing to resign as a lawmaker if Cameron broke his "no ifs, no buts" pledge not to expand Heathrow, but would honor it because "it's a promise that I made and it's a promise I'm obliged to keep." He would not resign from the mayoralty if a decision is made after he wins the election, he said, because "it's not a promise that's part of my campaign to be mayor."
Watch Next: The Long Rise and Rapid Fall of Volkswagen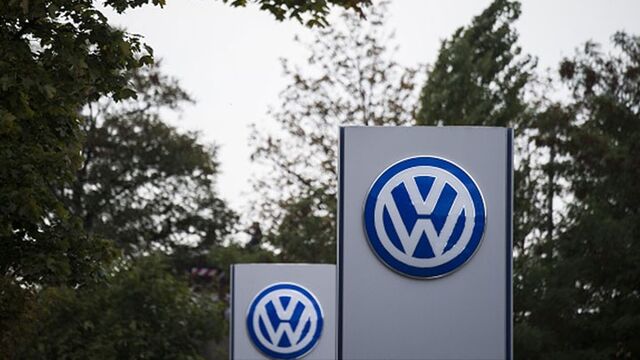 Before it's here, it's on the Bloomberg Terminal.
LEARN MORE