U.S. Republicans Pushed by CEOs in Paris to Shift Climate Stance
by
Executives at Paris summit say U.S. risks missing opportunity

Senate Republicans have sought to undermine U.S. carbon pledge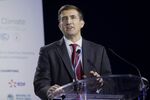 As the leaders of 195 countries gather in Paris to hammer out a global climate deal, much of the attention is on the U.S. -- where business leaders and scientists say they're trying to persuade Republicans to accept emissions curbs.
A key question among those attending the two-week summit is whether the U.S. will keep to the ambitious pledges laid out by President Barack Obama at the start of the event. Republicans including Senators Roy Blunt of Missouri and James Inhofe of Oklahoma have sought to undermine Obama's authority to strike a deal, arguing that any agreement needs to be ratified by the Senate, which their party controls.
In a Nov. 27 op-ed in the Washington Post, Senate Majority Leader Mitch McConnell of Kentucky said Obama's Paris commitments would "rest on a house of cards" because of opposition in Congress and the looming 2016 presidential election.
To overcome Republican opposition, "it takes the business leaders ultimately to speak up and show that this is good for job creation and for economic development," Paul Polman, chief executive officer of consumer-goods giant Unilever, said in Paris on Sunday. Comparing the effort to the campaign including Goldman Sachs Group Inc. and Starbucks Corp. that called for same-sex marriage to be legalized in the U.S., "that same momentum is undoubtedly coming in this area," Polman added.
Business Case
Potentially strengthening the case of Polman and other executives is the prominent role of companies in this year's summit, including Kellogg Co., DuPont Co. and Monsanto Co. of the U.S., as well as many European businesses, all of which are pledging to cut emissions within their operations. Many companies are also seeking to profit from the huge investments, often catalyzed by new regulations or tax incentives, that will be required to reduce carbon emissions in energy, transportation, agriculture and other industries.
One of them is Acciona SA, a Spanish builder of clean-power plants that operates seven U.S. wind farms. CEO Jose Manuel Entrecanales said in an interview in Paris that he's urged Republicans privately to recognize the economic potential of renewables, and that he thinks "eventually Congress will come around." Still, he said, "we are in a position to operate almost anywhere," and if the U.S. doesn't remain favorable to renewables, "well, there's India, there's Australia," and other destinations.
Emission Pledges
While Obama has sought to structure U.S. emissions pledges in ways that the White House argues won't require congressional approval, environmentalists say persuading Republicans to go along with climate rules is crucial to reducing the long-term risks of global warming. The U.S. is the world's second-largest emitter of carbon dioxide, after China, and home to three of the six so-called super-major oil companies.
In Paris on Monday, the Union of Concerned Scientists unveiled a letter to U.S. presidential candidates "urging them to pledge to create an economy free from carbon pollution" by the middle of the century. "As you know," the organization wrote, "the scientific evidence is overwhelming that carbon emissions from fossil fuels are changing our climate."
In a Nov. 30 speech at the opening of the Paris summit, Obama said the U.S. would "embrace our responsibility" to address climate change, as scientists warn that the world is near the point where it will be impossible to limit warming to two degrees Celsius above pre-industrial levels. A delegation of Democratic senators including Ben Cardin of Maryland and Jeff Merkley of Oregon arrived later to show support for Obama's position.
Gay Marriage
Some executives in Paris argued that, as in the gay marriage debate, favorable public opinion and efforts at the state level will gradually de-politicize the climate issue across the U.S. For example, Texas -- run by Republican governors since 1995 -- has more wind power installed than any other state, according to the American Wind Energy Association.
"If you look around the U.S. you see a number of states have moved very aggressively," Peter Schwartz, senior vice president for strategic planning at software provider Salesforce.com Inc., said in Paris. "Washington may be a bit deadlocked, but the states are moving and the country is moving."
Before it's here, it's on the Bloomberg Terminal.
LEARN MORE