U.K. Manufacturing Decline Signals Weak Start to Fourth Quarter
by
Factories cut output by 0.4%, double what economists forecast

Data comes as EEF lobby warns of worst quarter since 2009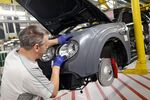 U.K. factories cut production by more than economists forecast in October, pointing to a weak start for industry in the fourth quarter.
Manufacturing output dropped 0.4 percent from September, the Office for National Statistics in London said on Tuesday. Economists in a Bloomberg survey had predicted a decline on 0.2 percent. Total industrial production rose 0.1 percent, thanks stronger output of oil, water and power.
The data highlights the lopsided nature of the U.K. economy, with recent surveys suggesting domestic demand and services are continuing to drive growth in the final three months of the year. In the same period, manufacturing output slumped to its weakest reading since the third quarter of 2009, according to manufacturers' organization EEF.
The pound weakened after Tuesday's data and was trading at $1.5018 as of 9:36 a.m. in London, down 0.3 percent on the day.
Bank of England officials taking their interest rate decision this week are likely to keep the benchmark at a record-low 0.5 percent well into next year, economists predict. Minutes of their meeting released Thursday will show how their thinking has changed since November, when they weighed a resilient domestic economy against a weaker global outlook and signalled low rates are needed to ward off risks.
Fading Hopes
The decline in manufacturing in October was led by the repair and maintenance of aircraft and spacecraft, which declined by 21.5 percent on the month. The sector contributed to a 5.4 percent drop in other manufacturing and repair, one of seven manufacturing sectors that cut output in October.
From a year earlier, industrial output rose 1.7 percent and manufacturing fell 0.1 percent. In the three months through October, total production climbed 0.6 percent.
The EEF said Monday manufacturing employment and investment balances decreased to -7 and -3 respectively in the fourth quarter, the first time they have been below zero since the first quarter of 2010. EEF chief economist Lee Hopley said "the prospect of manufacturing contributing to growth in the U.K. economy this year has all but faded away."
Before it's here, it's on the Bloomberg Terminal.
LEARN MORE