Poloz Says Canada Quite Far From Extraordinary Stimulus
by
Bank of Canada Governor comments in Bloomberg TV interview

Poloz says main forecast is an economy returning to normal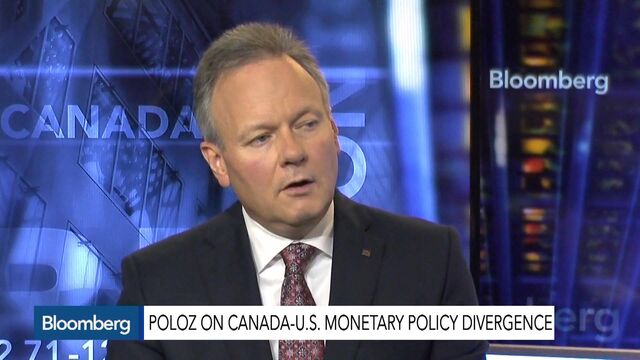 Bank of Canada Governor Stephen Poloz said the nation's economy remains "quite far" from needing unconventional policies such as quantitative easing to spur growth, with a weaker Canadian dollar and recent rate cuts accelerating the recovery.
Two interest rate cuts this year that have brought the benchmark rate to 0.5 percent helped keep the economy out of a recession following a drop in crude oil prices, Poloz said in an interview Tuesday with Bloomberg TV Canada's Pamela Ritchie. A weaker Canadian dollar is also helping, he said in the interview.
"We believe there's a reasonable probability that two years from now we'll be back at 2 percent inflation, the economy operating at full capacity," Poloz said in the interview. "So if something were to happen that pushed us significantly outside that zone, that's when we'd need to look at, well, what are our options,"
Canadian financial markets were rattled this week by fresh signs of weakness in China and growing concerns a global oil glut will keep prices low. Still, Canada remains on track for faster growth in the next two years, and the economy will return to full capacity by mid-2017, Poloz said in a speech and press conference in Toronto.
Quite Far
In his speech, Poloz outlined the tools available to the central bank in case of another crisis, including charging banks for deposits, forward guidance and asset purchases.
Because potential growth rates are lower since the global crisis, targeting 2 percent inflation means it's more likely that policy interest rates will fall to zero than in the past.
Still, when asked in the Bloomberg interview how far Canada is from needing extraordinary measures, Poloz said: "I would say quite far."
Helping the economy adjust to lower oil prices is a Canadian dollar that has declined 15 percent this year and more than 20 percent over the past two years. The depreciation has been due in part to a divergence in policy rates between Canada and the U.S., with the Federal Reserve expected to raise interest rates later this month. Asked how long Canadian rates can diverge from the U.S., Poloz responded by highlighting the benefits of flexible exchange rates.
"The flexible exchange rate is a very important means of adjusting faster," Poloz said.
No Recession
Poloz also refused to characterize Canada's economic contraction in the first half of this year as a recession, arguing the economy was growing outside of energy. Canada's economy expanded again in the third quarter.
"We still wouldn't call it a recession, it's a mild contraction, because it was really a very pinpointed kind of thing, and we could see the other sources of growth continuing to gather momentum," he said.
January Cut
Poloz's January rate cut was his biggest policy decision since taking office in 2013, surprising investors at the time and triggering the largest drop in Canada's dollar since 2011. His rationale that insurance was needed against the damage from crude oil falling below $50 a barrel was borne out as the economy shrank in the first half of the year.
"The staff did a fabulous job of calling that and I think making the policy move did buffer it to some extent," he said.
Before it's here, it's on the Bloomberg Terminal.
LEARN MORE