OPEC Takes Down Oil Majors as Lower-for-Even-Longer Kicks In
by
Majors' EPS estimates for 2016 have been cut as oil slides

Earnings downgrades could be in store for the oil companies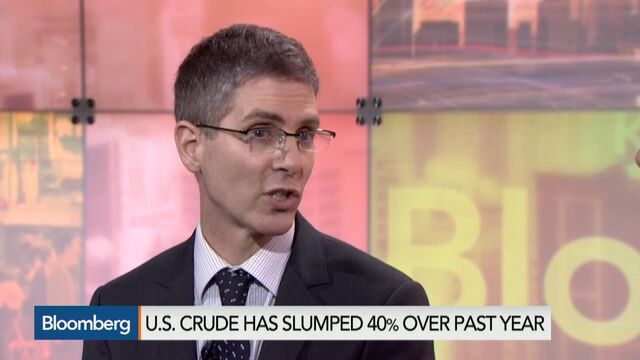 For months, many executives at the world's largest oil producers have been talking about prices staying lower for longer. After OPEC's decision to keep pumping full pelt that could become lower for even longer.
Even before Friday, the prolonged slump in crude had forced analysts to cut their earnings-per-share estimates for the world's 10 largest integrated oil companies in recent weeks. With oil dropping to the lowest in more than six years after the Organization of Petroleum Exporting Countries meeting on Friday, further downgrades are probably on the way.
"A potential OPEC cut was the last source of hope for the bulls near term," Aneek Haq, a London-based analyst with Exane BNP Paribas said Dec. 4. "The oil majors have already started to underperform the market over the past few weeks, but this now coupled with earnings downgrades and valuations that imply $70 a barrel should put further pressure on share prices."
The mean adjusted 2016 EPS estimate for Exxon Mobil Corp. has been cut by more than 9 cents a share and for Royal Dutch Shell Plc by 8.4 cents over the past month, according to data compiled by Bloomberg. EPS projections for Total SA, Europe's second-biggest oil company, and Repsol SA are lower for 2016 than those for this year.
Price Assumptions
Those estimates assume a much higher price than the $41.19 a barrel that Brent traded at as of 9:57 a.m. in London on Tuesday. Oswald Clint, a London-based analyst with Sanford C. Bernstein has based his EPS estimates for oil majors at a Brent price of $60 a barrel, he said by phone Dec. 7. Alexandre Andlauer, a Paris-based oil sector analyst with AlphaValue SAS, has assumed a price of $63.
"The re-rating of the oil companies downwards will accelerate now," Andlauer said Dec. 7 by phone from Paris. "Valuations will have to drop."
Shell's B shares, the most actively traded, dropped for a fourth day, declining 1 percent in London on Tuesday. BP fell 1.5 percent, declining for an eighth day, while the benchmark FTSE 100 Index lost 0.7 percent.

"The lower-for-longer scenario that oil companies are predicting is going to become lower-for-even-longer," said Philipp Chladek, a London-based oil sector analyst with Bloomberg Intelligence. "We will see some revisions in EPS forecasts in the near future because most forecasts are assuming an oil price recovery during 2016. Many will be taking that out now."
Market Oversupply
BP has "reset" its business to generate surplus cash flow with oil at about $60 a barrel by 2017. Total said in September investment cutbacks and project delays will enable it to fund dividend payouts at a similar price without the need to borrow. The companies may now need to rework the math as the break-even could be pushed further back, said Andlauer of AlphaValue.
There's as much as 2 million barrels of oversupply in the market, and OPEC's meeting on Friday means "everyone does what they want," Iran's Oil Minister Bijan Namdar Zanganeh said in Vienna on Dec. 4. Russia is also producing at near record levels.
Brent crude, the global benchmark, has slumped the lowest since February 2009 while West Texas Intermediate has dropped below $40 a barrel. Refinery maintenance in the first quarter of 2016 will probably slow the growth in demand and coupled with the continued oversupply oil could drop to as low as $30 a barrel, according to Eugene Lindell, oil market analyst at JBC Energy GmbH.
Margin Squeeze
"OPEC confirmed the bearish sentiments last week," he said Dec. 7 by phone from Vienna. "This will push prices even lower."
Global margins from refining, a business that helped oil majors offset lower profit from crude production, are also being squeezed, dropping to an average $13.6 a barrel in the fourth quarter from $20 in the preceding three months, according to BP data.
Crude's slump has been brutal for the oil companies, forcing them to slash spending, cancel projects and dismiss employees. Shell reported its biggest net loss in at least 16 years in the third quarter, while also lowering its oil-price expectations, resulting in a charge of almost $8 billion. Exxon's adjusted net income dropped to the lowest since 2009 and ConocoPhillips reported its biggest loss since 2008.

Many investors put money in the biggest oil companies because they want a share of the dividends. Shell hasn't cut it's payout since at least the Second World War and plans to maintain it next year as well. Chevron said in August it'll keep increasing the annual dividend, as it's done for the past 27 years.
Yet, some are skeptical the companies can continue to do so if low oil prices persist. Eni SpA become the first major oil company to cut its dividend this year, reducing the payout for the first time since 2009. U.S. pipeline-operator Kinder Morgan Inc. will be reviewing its dividend policy in the coming days, the company said last week.
"So far, they've managed to invest and pay dividends, but this is not sustainable," Chladek said. "Something has to give."
Before it's here, it's on the Bloomberg Terminal.
LEARN MORE