Mercedes Steps Up Expansion in Indian Towns to Tap Aspirations
by
Carmaker plans more outlets to woo buyers in small communities

Mercedes unveils new A-Class version aimed at younger drivers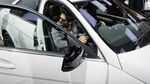 Mercedes-Benz is stepping up expansion of its car dealer network in smaller Indian towns to tap growing wealth and aspirations for global luxury brands.
The Daimler AG division, which this year is opening 10 of its 15 new outlets in locations other than in big cities, is seeking to win more buyers by getting closer to them, Roland Folger, Mercedes's chief executive officer in India, said in an interview Tuesday. The company introduced a refreshed version of its A-Class hatchback starting at 2.5 million rupees ($37,400) and is aimed at younger buyers looking for their first set of stylish wheels, he said.
"There's people, there's purchasing power, there's very high aspirational attractiveness of our brand, but there's nobody there" offering vehicles to buyers, said Folger, who started in his current role Oct. 1. "People don't like the idea of having to travel four, five hours to buy a car and then have a service issue. So our approach is to be closer to the customer."
Luxury automakers have been expanding outside of India's biggest cities as faster economic growth boosts incomes and easier access to the Internet is driving aspirations. Mercedes's rival Audi AG said Tuesday it opened a new dealership in Rajkot, among 53 cities in the country with a population of more than 1 million people. The South Asian nation is estimated to have had the world's fastest-growing population of high net-worth individuals last year.
"Carmakers have realized that small towns in India have a lot of people with a lot of money and the information about luxury brands is percolating faster with the Internet," said Deepesh Rathore, a director at Emerging Markets Automotive Advisors in London. From Mercedes, "the GLA , the A-Class and B-Class are practical for the narrower roads of small towns as well as affordable."
Mercedes introduced its GLA sport utility vehicle in 2014 and the CLA compact sedan this year. In June, the automaker opened a new production facility in Pune, near Mumbai, increasing its capacity in the country to 20,000 cars a year.
Mercedes will expand further into smaller towns, Folger said in Mumbai, without giving a target. The company is on track to open 15 new sales and service centers this year, with a showroom opening in the northern city of Dehradun Thursday, followed by one in Bhopal in central India.
The number of people in India with at least $1 million in investable assets in 2014 rose by 26 percent to 198,000, according to a study by Cap Gemini and RBC's wealth-management unit.
Before it's here, it's on the Bloomberg Terminal.
LEARN MORE