Khan Distances Himself From Corbyn in Race to Be London Mayor
by and
`I'll be my own man,' Labour candidate says in interview

Khan faces Tory Goldsmith in contest to succeed Johnson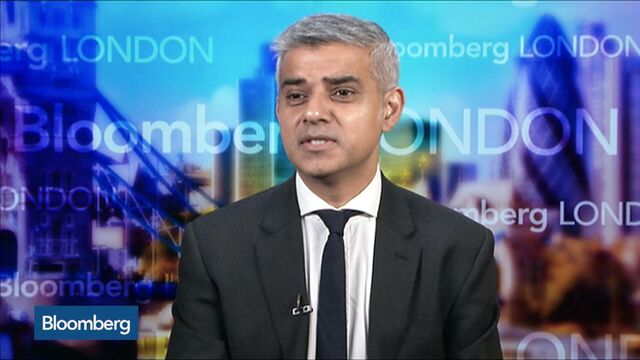 Sadiq Khan, the main opposition Labour Party's candidate to be mayor of London, distanced himself from party leader Jeremy Corbyn and insisted he would follow pro-business and independent policies if he's elected in May.
Khan, who quit as Labour's justice spokesman in the House of Commons to join the race to succeed Conservative Mayor Boris Johnson, said he'll campaign to keep Britain in the European Union and work to improve housing and air quality in the capital.
Corbyn has set out his vision for Labour but "I'm quite clear I'm running to be the mayor of London and I'm running on my platform, my vision, my values and what I want to see in this city of mine; I'll be my own man," Khan said in an interview with Bloomberg Television recorded Monday. "The best mayors around the world have been their own person and that's what I intend to do."
Khan, who will face the Conservatives' Zac Goldsmith in the election on May 5, was one of the members of Parliament who nominated Corbyn, running on a traditional socialist platform, for the Labour leadership earlier in the year, though he said at the time he did it to broaden debate and didn't intend to vote for him. Corbyn's surprise win created a difficulty for Khan, who needs to convince potential Tory voters of his fitness for office in order to win the mayoralty.
Khan said he would use his experience running a law firm to help him listen to businesses and act on the challenges they face, including ensuring there is affordable housing for their employees.
"I'm the only candidate with experience of running a business," he said. "I would be the most pro-business mayor London's ever had."
Khan also said he favors the expansion of Gatwick Airport, to the south of London, and opposes additional capacity at Heathrow because of the impact it would have on pollution with extra planes flying over the capital.
Before it's here, it's on the Bloomberg Terminal.
LEARN MORE