Israel Builds Links With Jordan Despite Rift Over Holy Site
by and
Gas pipeline, joint industrial park, Red-Dead canal in works

Regional tensions fueling Jordan's cooperation with former foe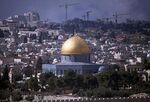 A gas pipeline, a joint industrial park, and a canal linking two seas: Israel and Jordan aren't letting tensions over an ancient Jerusalem shrine derail economic cooperation worth billions of dollars.
Jordan has a historical role as guardian of the hilltop sacred to Muslims as the al-Aqsa mosque compound and to Jews as the Temple Mount, and King Abdullah has warned Prime Minister Benjamin Netanyahu that Israel's handling of Palestinian demonstrations there could damage ties with his nation.
Yet amid the strains, turmoil on Jordan's borders and ongoing security and economic interests have prevailed over political frictions. Israeli Deputy Minister for Regional Cooperation Ayoob Kara met with Jordanian officials to discuss a proposed industrial park straddling the border. The first of a planned 1,500 Jordanian day-workers crossed into the Israeli resort town of Eilat to work in hotels as regional violence batters Jordan's own tourism industry. And Jordan solicited companies to build the first stage of a southern conduit connecting the Red Sea and Dead Sea.
'High Decibels'
While disputes connected with the Palestinians "may sometimes reach high decibels, especially on the Jordanian side, it's a bit misleading because it doesn't portray the full gamut of our relations," said Oded Eran, a former Israeli ambassador to Jordan and research fellow at Tel Aviv's Institute of National Security Studies. "Whether King Abdullah is or isn't picking up the phone when Netanyahu calls, there are still intensive contacts between officials from both countries, especially in the security and economic spheres."
Jordan, whose population is predominantly of Palestinian descent, is the only Arab nation besides Egypt to sign a peace treaty with Israel, and has worked closely with it on peacemaking with the Palestinians, security and water issues. In times of political tension, some Jordanian officials have publicly denied or downplayed ongoing projects with Israel.
One factor now pushing Jordan into deepening economic links with Israel is the violence in neighboring Syria and Iraq, which used to provide key trade routes, according to Amman-based economist Hosam Ayesh. "It is in Jordan's interest to preserve economic cooperation with Israel in light of the regional turmoil and closure of borders with Iraq and Syria, as Jordanian traders are using Israeli ports to import and export commodities," Ayesh said.
Jordanian exports to Israel surged to $378.1 million in 2014 from $105.9 million in 2008, while Israeli exports to Jordan fell to $107.8 million from $288.5 million, according to Israel's Central Bureau of Statistics. Israeli exports fell primarily because the U.S. lowered trade tariffs on Jordanian exports, lessening Jordan's need to produce goods with Israeli components at free-trade zones it set up after the countries made peace in 1994, according to the Israel Export & International Cooperation Institute.
Frequent Flashpoint
Disputes over the Jerusalem shrine have frequently tested ties between the two nations. Recently, Jordan came to the defense of Palestinians who say Israel is trying to change decades-old understandings to widen Jewish worship there, dismissing Netanyahu's denials. Two months of violence have claimed the lives of more than 20 people on the Israeli side and over 100 Palestinians, most of them attackers.
At an Oct. 24 meeting with U.S. Secretary of State John Kerry, Abdullah proposed to defuse the frictions by installing security cameras to observe actions at the compound. The plan has been held up by wrangling over who would control the monitors.
Israel's Kara, who is pushing for more economic cooperation with Jordan, acknowledges that political differences create "an unpleasant atmosphere and make it harder to take major decisions on the international level." Yet he maintains joint projects will continue because it serves the Jordanians' interests.
Israel on Nov. 8 published a bid to build a bridge to connect both sides of the planned joint industrial park. "We have 10 companies at present at the park and the number of companies will skyrocket when the bridge is completed in less than two years," said Qasem Altbaishi, general manager of the Jordanian side.
Israel and Jordan are also building a pipeline to carry natural gas from Israel's Tamar field to Jordan. The companies controlling Tamar, headed by Texas-based Noble Energy Inc. and Israel's Delek Group Ltd., finalized a deal this year to ship $15 billion in gas to Jordan over the next 15 years, creating the first energy link between the nations.
The most ambitious Israeli-Jordanian project is the long-discussed Red Sea-Dead Sea canal. The channel would replenish the Dead Sea's evaporating salty water, a rich source of chemicals for both countries, serve as a source for desalination plants and power hydroelectric plants.
Formidable Obstacles
The project's estimated $10 billion price tag, environmental concerns and political complications concerning Palestinian cooperation have been formidable obstacles for decades. Even so, Israel and Jordan have pushed ahead with its initial stage, a desalination plant at Jordan's Aqaba port, whose brine will be shipped to the Dead Sea by pipeline.
"Jordan always separates between political tensions with Israel and economic cooperation," Ayesh said, and "will continue to commit to deals and mega-projects with Israel, even if this is not announced to the public."
Before it's here, it's on the Bloomberg Terminal.
LEARN MORE