Iraq Forces See Breakthrough Against Islamic State in Ramadi
Zaid Sabah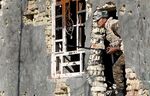 Iraqi forces have made a breakthrough in their campaign to recapture the key provincial capital of Ramadi from Islamic State, a senior local official said.
QuickTake Fighting Islamic State
The Baghdad government's forces regained control of the Al-Tamim neighborhood in southwest Ramadi, which was seized by the jihadists in May, Faleh al-Issawi, deputy head of the provincial council, said by phone. The Iraqi flag is again flying over army headquarters in the city, he said.
Ramadi, the capital of the mostly Sunni Muslim province of Anbar in central Iraq, has been fiercely contested ever since Islamic State's initial advances through the country. Iraqi troops fighting to recapture it have received training and air support from the U.S.
The U.S. has promised to send additional special forces to Iraq and Syria to combat Islamic State, and along with allies has stepped up airstrikes against the jihadist group in recent weeks.
Pentagon spokesman Peter Cook said Tuesday that reports of Iraqi progress in Ramadi are encouraging, though he said it remains a "highly contested area."
There are about 250 militants left in Ramadi, and an offensive to complete its recapture is expected in the coming days, al-Issawi said.
Before it's here, it's on the Bloomberg Terminal.
LEARN MORE