Expected New Zealand Rate Cut May Fuel Its Red-Hot Housing Market
by
RBNZ expected to cut rates Thursday despite housing boom

Inflation targeting ``no longer fit for purpose,'' says NZIER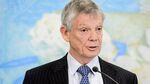 Inflation targeting may have become a straitjacket for the central bank that pioneered it.
Under pressure to boost inflation to 2 percent, the Reserve Bank of New Zealand is forecast to cut interest rates Thursday, returning them to a record low. That's in spite of its concern that lower borrowing costs could throw fuel on an already red-hot housing market.
Governor Graeme Wheeler is unwinding last year's four rate increases after an anticipated pick-up in inflation failed to materialize and a dairy-price slump damped economic growth. With global price pressures weak despite record monetary stimulus, and Auckland's property boom showing signs of spreading, some economists are questioning whether a rigid adherence to inflation targeting is the right response.
"We tend to pigeonhole ourselves: there's an inflation target and we've got to meet it," said Stephen Toplis, head of research at Bank of New Zealand in Wellington, who thinks the RBNZ will cut rates but shouldn't. "Surely what's happening around the rest of the economy matters as well. Isn't it a bit dangerous to be adding stimulus in this environment?"
Wheeler will lower the official cash rate by 25 basis points to 2.5 percent, according to 15 of 18 economists in a Bloomberg survey. Market pricing for a cut has also firmed in recent days, rising to a 70 percent chance Wednesday from 50 percent last week. The decision is due at 9 a.m. tomorrow in Wellington and Wheeler will hold a press conference afterwards.
Targeting Pioneer
New Zealand's central bank adopted an explicit inflation target in 1990, winning plaudits for pioneering a model that's widely used around the world today. It aims to keep inflation within a 1-3 percent target band on average over the medium term, with a focus on the 2 percent midpoint. Inflation is currently running at 0.4 percent.
While Wheeler held rates steady in October to "watch and wait," he said another cut would likely be needed to ensure inflation "settles near the middle of the target range."
There have been some signs of improvement in the economy since Wheeler's previous decision, with business confidence turning positive and consumer sentiment rising.
Help From Fed?
And a rate increase from the Federal Reserve on Dec. 16 could help Wheeler by driving down New Zealand's currency and boosting import prices. Yet rising expectations for the first Fed hike in nine years have failed to exert much downward pressure on the kiwi, which has climbed more than 3.5 percent this quarter.
"The RBNZ can no longer afford to wait and watch," said Kim Mundy, an economist at ASB Bank in Auckland. "If it is to ensure inflation gets back to its target in the medium term, the RBNZ must take action and cut the OCR further."
In its last set of forecasts in September, the RBNZ predicted inflation would return to 2 percent in the third quarter of 2016. The New Zealand dollar's strength may see it lower its price forecasts Thursday and push attainment of the elusive 2 percent goal into 2017 -- six years after it was last reached.
At the same time, property prices in Auckland, New Zealand's largest city, are surging amid record immigration and a housing shortage, and there are signs the boom is spreading. Nationally, house prices jumped 15 percent in November from a year earlier, the fastest pace in almost 10 years.
'In a Bind'
"The Reserve Bank is in a bind -- leave rates on hold and miss the inflation target, or lower them but risk an asset-price spiral," said Kirdan Lees, principal economist at the New Zealand Institute of Economic Research, which proposes the central bank target growth in the overall size of the economy rather than inflation. "Increasingly, inflation targeting is no longer fit for purpose," Lees said.
Central banks around the world are grappling with an absence of price pressures as new technologies and Internet commerce increase efficiency, intensify competition and reduce costs. Despite record central bank stimulus, inflation rates remain low.
New Zealand Finance Minister Bill English said inflation targeting was conceived when there was a need to damp price gains, not stoke them.
'A Bit Disoriented'
"We are all a bit disoriented by this recent phenomenon of central banks trying to reach the target coming from below," English told a parliamentary committee in Wellington today. While it was good to be open minded to new propositions, "we haven't yet seen a convincing case that any of those things in New Zealand's situation would be growth enhancing," he said.
Toplis argues the RBNZ can apply inflation targeting with more flexibility, allowing it to defer attainment of the 2 percent midpoint if there are more pressing concerns such as a housing bubble.
"Interest rates have been pushed lower all around the world and it hasn't created consumer-price inflation, but it's sure as hell created asset-price inflation," he said. "It looks like we're going to get run over by a truck rather than a bicycle, so let's worry about the truck first."



Before it's here, it's on the Bloomberg Terminal.
LEARN MORE