Disney Restores Walt's Old Office Down to Scripts and Ashtrays
by
Space will be part of studio tour for guests, company staffers

`Gold' members of D23 fan club will have to pay additional fee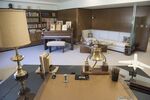 Walt Disney Co. is adding a fresh perk for top-spending members of its D23 fan club: a tour of Walt's office, including the ashtrays where he'd stub out his Chesterfields.
The space in Burbank, California, a time-capsule from corporate America in the 1960s, was restored "right down to the tiniest detail" in part to inspire employees to take "bold creative risks" and "pursue perfection," Disney Chairman and Chief Executive Officer Robert Iger said Monday at a press event.

With the office, the company is taking page from Hewlett-Packard Co.'s playbook, which turned the garage-workshop of its co-founders into a historical landmark. Walt Disney attracted legions of loyal followers and fans, drawn to his groundbreaking work in animation and amusement parks. Almost 50 years after Disney's death, the company holds annual conventions for fans around the world, selling millions of dollars worth of memberships and memorabilia.
The five-room suite includes a reception area, a secretary's office, Walt's working office, his private office and another room he used to relax. There's a master plan for Walt Disney World on the wall with future attractions highlighted, scripts on the credenza ("Lt. Robin Crusoe U.S.N.," "Monkeys, Go Home!"), Disney figures on shelves and three ashtrays on his desk. Disney died of lung cancer in 1966.
The office may be part of a studio tour that's open to Disney Movie Rewards members who cash in points, as well as customers of Adventures By Disney, a company-owned travel agency. Gold members of Disney's D23 fan club, who already pay $80 in annual fees, will also be able to purchase tours that include the office.
The office is located in Disney's animation building. The founder used the space from the 1940s until his death. He came to the office at 8:30 a.m. each day and stayed until 7 p.m., hosting meetings with park designers, screen writers and animators, some of whom ended up sitting on the floor. The suite was occupied recently by "Desperate Housewives" creator Marc Cherry and before that by Shaun Cassidy.
Joanna Miller, Disney's granddaughter, recalled driving Autopia cars, an attraction at Disneyland in Southern California, in the Burbank parking lot and watching clips from upcoming movies when she was a child.
"I can't believe grandpa let 6-, 7-, 8-year-olds roam free on the lot," she said at the event.
Richard Sherman, who wrote scores to Disney films including "The Jungle Book" and "Mary Poppins" with his brother Robert, said he often played the piano in Disney's office while the founder looked out the window, nursing a Scotch Mist from his nearby bar.
Disney invited Sherman to the studio one day to see a model of a new attraction he was designing for the 1964 New York World's Fair. There was one problem -- the jarring sound from animatronic figures simultaneously singing national anthems from around the world.
Disney asked Sherman to write a song. The one he came up with would become the centerpiece for the "It's a Small World" attraction in Disney parks around the world.
After hearing the number Disney responded with his normal, Midwestern reserve, Sherman said.
"He said 'Yes, that'll work,"' Sherman recalled. "That was his big compliment."
Before it's here, it's on the Bloomberg Terminal.
LEARN MORE