December Heat Wave? The Mercury's About to Jump in Eastern U.S.
by
Record warm temperatures are possible in coming weeks

El Nino spurs milder readings across the eastern U.S.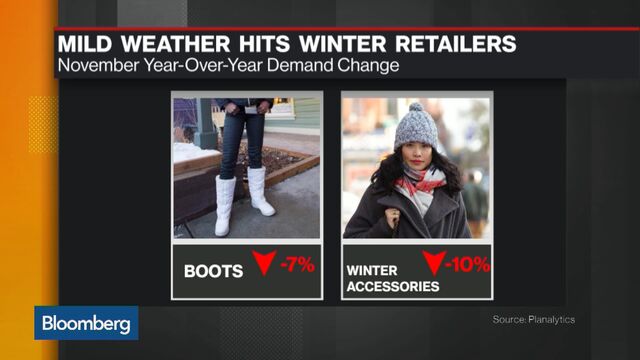 Get out the lawn mower and the gardening tools along with the reindeer and all the other accoutrements of the December holiday season, because it's looking like July for Christmas.
Well, for the rest of the week, it'll really be more like the middle of November in Central Park, said Carlie Buccola, a National Weather Service meteorologist in Upton, New York. Then it will get even warmer.
Through Friday, high temperatures in Manhattan, Chicago, Philadelphia and Boston will reach the upper 50s Fahrenheit (about 13 Celsius), with Washington, St. Louis and Cincinnati making it into the 60s. Toronto will even make it close to 54 later this week, according to Environment Canada.
Starting Dec. 12, temperatures will build off the week's mild start and keep going, said Tom Kines, a meteorologist with AccuWeather Inc. in State College, Pennsylvania.
"There should be a lot of record warmth with this," he said. "This warm shot means business."
Temperature Odds
The U.S. Climate Prediction Center says the odds for above-normal temperatures in the East are 80 to 90 percent from Dec. 12 to 16. There's an 80 percent chance the mild weather will continue through Dec. 20 in the Northeast.
From Dec. 12 through Dec. 16, Commodity Weather Group LLC predicts readings will be 8 to 15 degrees above normal throughout the Northeast and eastern Canada.
"It's impressive," said Matt Rogers, president of Commodity Weather in Bethesda, Maryland.
Rogers said his prediction for the natural-gas weighted heating degree days value for December is about 725. The 30-year normal for the measurement of temperatures and heating demand is 872.
When it comes to heating degree days, high is cold and low is warm. Last December, which was also mild, came in at 765.
Record Possible
"We're on pace to be one of the warmest Decembers on record, but of course, we still have the final quarter of the month yet" beyond the range of forecast models, Rogers said.
The readings are related to larger forces. There is a trough of low pressure in the West that often leads to a big high-pressure ridge, and warmer temperatures, in the East, said Steve LaVoie, a meteorologist at Hometown Forecast Services Inc. in Nashua, New Hampshire.
On top of that, "it is most likely related to El Nino," LaVoie said.
El Nino is when the equatorial Pacific Ocean warms and disrupts weather patterns worldwide. That chain reaction often ends up with a warmer-than-normal northern U.S.
The question is how long all of this will last. The Climate Prediction Center's three-to-four week experimental forecast calls for temperatures higher than usual through the first of the year.
The warmth doesn't mean that there won't be snow, said Kines. A storm here or there may grab enough cold air to bring some snow to the Northeast.
"Any snow the East gets will be short-lived," he said. "The ski areas aren't going to like it."
There is also a chance that later in the season, cold may bring some real winter for February and March, Kines said.
"If that doesn't happen, this will really be a non-winter for the East," he said.
Before it's here, it's on the Bloomberg Terminal.
LEARN MORE