Christie Calls New Jersey Democrat Pension Effort a Tax Increase
By
Governor grows more vocal in criticism of state Democrats

Christie tells group of executives to get active in politics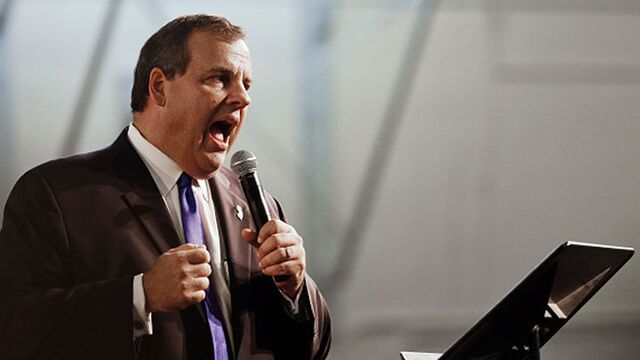 Republican Governor Chris Christie lashed out at a top New Jersey Democrat's call for a state constitutional amendment requiring full pension payments, saying it would require $3 billion in new taxes to cover it.
During a speech Tuesday to New Jersey business leaders, Christie said the pension-funding plan proposed Monday by Senate President Stephen Sweeney would raise costs without providing a way to cover the new spending. The governor, who cut benefits and raised worker contributions during his first term, has called for more givebacks to reduce the state's obligations into a retirement system with an $83 billion unfunded liability.
Democrats who control the legislature have refused to negotiate more benefit changes after Christie reneged on promised pension contributions. Sweeney, a Democrat from West Deptford, is proposing a ballot question that he said would put the state on track to make full payments by 2022. Under state law, a constitutional amendment wouldn't need Christie's approval if both legislative houses vote to place it on the ballot.
"This is a $3 billion tax increase on 90 percent of this state to benefit his political patrons," Christie said, referring to an alliance between Sweeney and public-employee unions. The governor, who cast himself in his first term as a master of bipartisanship, has become more critical of Democrats during his second term as he runs for president.
Christie notes repeatedly on the campaign trail that he has vetoed more tax increases than any governor in modern U.S. history. During the speech, he thanked Democrats for that record and compared himself to a person standing in front of a tank onslaught.
He urged business leaders to be more pronounced in their support for Republicans -- including donating to campaigns and organizing politically to elect them. He urged them not to "tinker in the middle" by supporting Democrats for fear the party captures the governor's mansion in the next election. Christie is barred by state rules from seeking a third consecutive term.
"The constitution is going to remove me from the front of that tank, but who's next," he said in a reference to the 2017 governor's race. "I'm tired of watching it."