Photographer: ChinaFotoPress
China's Smog Red Alert Risks Raising Hopes for Pollution Fix
Bloomberg News
Beijing's red alert likely to remain in effect until Thursday

Smog blanketing northern China linked to fatal car pileup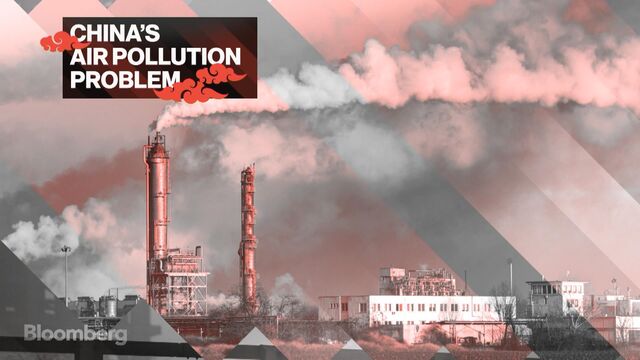 In issuing the first red alert over pollution levels in Beijing, Chinese authorities left themselves in a bind -- acknowledging the severity of the problem while raising expectations they have a plan to clear the skies.
Officials braved the smog that blanketed the capital Tuesday to try to reassure citizens they were taking action. Beijing Mayor Wang Anshun, who once pledged to cut off his own head if he couldn't tame pollution, went to Tiananmen Square to speak to residents and oversee the enforcement of car restrictions, according to China Radio International. Beijing's Communist Party chief Guo Jinlong made a public visit to the city's environmental protection bureau.
"The new alert and the officials' inspections show the government's determination to tackle the air pollution in Beijing and the officials' are under pressure from both the public and the leadership," said Mao Shoulong, a public administration professor at Renmin University of China. "But these are preventative measures and won't repair the polluted condition in the long term."
The smog surge in China coincided with United Nations-led talks on climate change in Paris. Public anger over air quality has been a driving force in pushing President Xi Jinping to commit to sweeping reductions in carbon emissions that may help smooth a global deal. China's smog is a cost of three-decades of breakneck economic growth that lifted hundreds of millions out of poverty. Air pollution causes as many as 4,000 deaths a day, according to a study earlier this year by Berkeley Earth, an independent research group.
Red Alert
The Beijing alert, which forced the closing of schools, the shutting of some factories and driving restrictions, will be in effect until noon on Thursday, according to a report from official Xinhua News Agency. It's the first time the alarm has been raised to its highest level since introduction of an emergency air-pollution response system in 2013.
The capital's government last week refrained from issuing the most severe alert when pollution levels hit some of the highest recorded. Concentrations of PM2.5 -- particulate considered the most dangerous -- exceeding 500 micrograms per square meter. As of 12 p.m. Wednesday in Beijing, PM2.5 level was 223 micrograms. The World Health Organization cautions against 24-hour exposure to PM2.5 at concentrations higher than 25.
The Beijing government defended the decision to hold at an orange alert because the city failed to meet the strict standard of having "serious pollution for three consecutive days," though many believed levels topped the dangerous levels for five days. A municipal transportation company issued a notice on Dec. 1 banning bus drivers from wearing protective face masks to "project a good public image," the Beijing News reported Tuesday, citing an unnamed company official.
Fatal Crash
The smog has wreaked havoc on the country's roadways. Low visibility was blamed for a 33-car pileup that killed six and injured four on a highway in the northern province of Shanxi on Tuesday, Xinhua reported.
The smog has also prompted a jump in demand for pollution-protection gear. Sales of face masks almost doubled each day in the past month, to 200,000 at the Rijia Mask shop on Alibaba Group Holding Ltd.'s Taobao.com, owner Li Chengbin said by phone. Li's factory is able to produce a million masks a day to handle increased sales, he said.
"The issuing of a 'red' pollution alert means first and foremost that the Beijing authorities are taking air quality, and related health issues, very seriously," according to Dr. Bernhard Schwartlander, the WHO's representative in China. "First, it sends a message to the public about the severity of pollution levels. And second, it triggers particular actions from the government to reduce pollution levels."
While Beijing officials can move to reduce the severity of outbreaks with local driving and production restrictions, a long-term solution involves overhauling dirty industries beyond the city limits. Many local governments are loathe to limit the factories that drive their local economies.
Inspection Teams
The central government has said it would use more clean energy, eliminate outdated production capacity or reduce reliance on coal as part of its efforts to reduce air pollution, said Wang Tao, a resident scholar of energy and climate program in the Carnegie-Tsinghua Center for Global Policy. However, "local governments are reluctant to shut down" heavy industries such as steel or cement makers, which are significant taxpayers or job providers, Wang said.
The Ministry of Environmental Protection sent two teams of inspectors to central China's Henan province to try to control the pollution at the source, Xinhua said. It had previously dispatched 10 inspection teams to regions known for heavy pollution, mainly around Beijing, to ensure emergency plans were in place.
The city of Tangshan, about 170 kilometers (105 miles) from Beijing, issued a level-3 emergency response to the smog. It asked all the steel rolling plants to shut down during the day, effective 3 p.m. on Tuesday, according to Mysteel Research. The Hebei provincial government issued an orange alert for smog within its jurisdiction, requesting frequent checks on emissions from all coal-fired furnaces and key industrial sites.
— With assistance by Keith Zhai, Feiwen Rong, and Feifei Shen
Before it's here, it's on the Bloomberg Terminal.
LEARN MORE