Photographer: Xaume Olleros/Bloomberg
Charting the Markets: The Pendulum Swings Back to China
Emerging market stocks decline for a third day, oil rebounds from Monday's plunge and Anglo American shares sink to a record low.
by
A combination of weak Chinese economic data and lower commodity prices is weighing on global stocks for a second day. China's exports fell by a bigger-than-forecast 6.8 percent in November in dollar terms. Imports declined for a record 13th month, sinking 8.7 percent. China's yuan weakened to the lowest in four years after the central bank cut the currency's fixing. The action came after a report on Monday showed the nation's foreign-exchange reserves slid more than expected in November as the People's Bank of China sold dollars to prop up the yuan.

Emerging markets are having to contend with weak China data, falling commodity prices and the prospect of higher U.S. interest rates. The MSCI Emerging Markets Index is on track for its lowest close since Oct.1. The gauge has sunk 16 percent in 2015, its worst year since 2011, and is close to being oversold. The so-called relative strength index has dropped to 33, the lowest in three months. A level of 30 or lower signals to some traders that selling is overdone.

Crude oil rebounded after the biggest one-day drop since Sept.1. Monday's 5.8 percent decline took crude to its lowest level in six years after OPEC effectively abandoned its strategy of limiting output to control prices. Crude ended yesterday at $37.65 a barrel in New York. The next significant level for traders is the $33.98 closing price on Feb. 12th, 2009. Crude has plunged 40 percent in the past 12 months as OPEC maintains output to defend market share against higher-cost U.S. shale producers. Increased supply from Saudi Arabia, Russia and Iran has lifted global stockpiles to almost 3 billion barrels, according to the International Energy Agency.

Anglo American has scrapped its dividend  for the first time in six years to counter a collapse in commodities. The shares dropped to a record low. The payouts for the second half of 2015 and for 2016 have been suspended, and from now the dividend will rise and fall with the company's profits. Anglo is battling metals prices that have slumped to the lowest levels in at least six years. Other measures it's already taken include shedding jobs and selling assets. That hasn't stopped the shares sinking 70 percent in 2015, the worst year on record. Earlier the Bloomberg Commodity Index, a measure of 22 materials, fell to the lowest since 1999.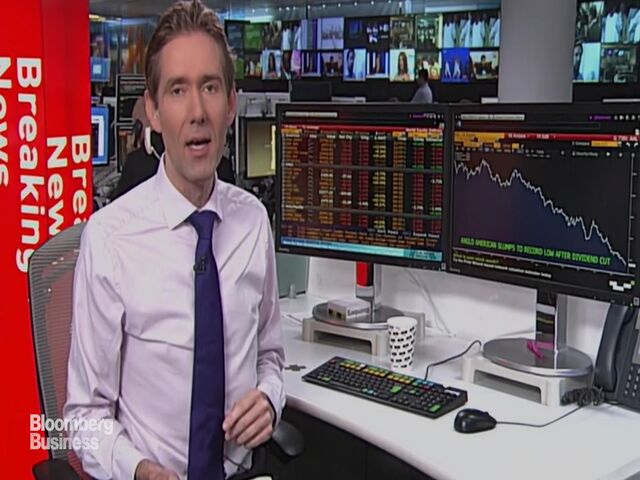 Mark Barton is a presenter on Bloomberg TV. Follow him on Twitter @markbartontv 
Before it's here, it's on the Bloomberg Terminal.
LEARN MORE