Brent at $40 Leaves Oil Forecasters Playing Catchup Again
by
First-quarter estimates are about $10 above current prices

Forecasters have consistently lagged the decline in crude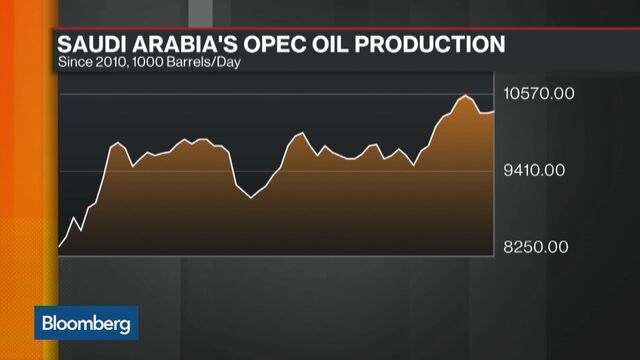 Forecasters have spent more than a year playing catch-up with the oil price. After OPEC effectively abandoned crude-output limits last week, another round may be overdue.
As Brent crude futures crashed through $40 a barrel Tuesday for the first time in almost seven years, analysts were still predicting average prices of $51 in the first quarter, according to data compiled by Bloomberg. With Iran planning to boost output by about 500,000 barrels a day, record oil stockpiles continuing to expand and El Nino damping demand for heating fuel in the Northern Hemisphere, there are several reasons to expect such a recovery isn't imminent.

"Banks have continuously been stripping their numbers down since July-August, and I think that will continue," said Abhishek Deshpande, an analyst at Natixis SA in London, who forecasts an average of $41 for Brent in the first quarter. "People want to go long, but timing wise I think they have to wait more before we can say it's hit bottom."
Brent crude will average $51 in the first quarter, according to the median estimate of analysts surveyed by Bloomberg, compared to the current price of $40.79 for the January futures contract on the ICE Futures Europe exchange. West Texas Intermediate, the U.S. benchmark, will trade for $48 in the period, according to forecasters, compared with $37.88 Tuesday on the New York Mercantile Exchange.

The consensus for the first quarter may be more bullish than current prices because projections for the year ahead still show the crude surplus diminishing as investment cuts outside the Organization of Petroleum Exporting Countries curb supplies and global oil demand increases, Deshpande said. That might not be enough to give prices much of a boost as storage tanks around the world fill up, he said.
"I can see the reasons people are bullish," said Deshpande. "Physical balances will get tighter as we go to the end of 2016," but the economics of storing oil will also influence prices, he said.
Before it's here, it's on the Bloomberg Terminal.
LEARN MORE