Venezuela Opposition Says It Won Congress as Government Silent
by
Electoral body has not yet released official results on vote

Election comes amid unprecedented recession, high inflation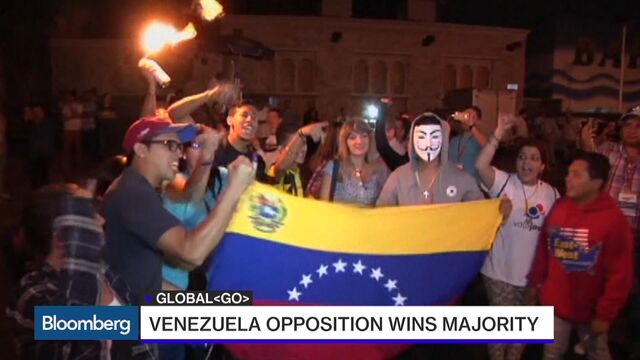 Venezuela's opposition said late Sunday that it won a majority in Congress for the first time in 16 years after elections were held in the South American country. The National Electoral Council has not yet released results.
"We've made history," opposition leader Freddy Guevara said at a press conference in Caracas as Venezuelans waited for official results. "Now it's up to the electoral council to tell Venezuela what the country is finding out, what we already know."
The result would come amid an unprecedented recession and collapse in the country's currency that have turned voters against the populist policies of President Nicolas Maduro. The economy is expected to contract 10 percent this year by the International Monetary Fund, while economists polled by Bloomberg see inflation of about 124 percent.
Earlier in the night, Henrique Capriles, an opposition leader and governor of Miranda state, said on Twitter that the opposition had won the election. As of 10:45 p.m. local time in Caracas, the electoral council had not even said if all polls had been closed. It had earlier extended voting by one hour to 7 p.m. or later, if voters still remained at polling stations.
"We'll wait a few moments for the CNE to come out, sit down, look the people in the eye, and tell us what we already know happened," Guevara said.
Before it's here, it's on the Bloomberg Terminal.
LEARN MORE