Venezuela Opposition Says It Has Won Congress Supermajority
by
Two thirds could allow it to try to oust President Maduro

It could name judges, alter constitution, electoral commission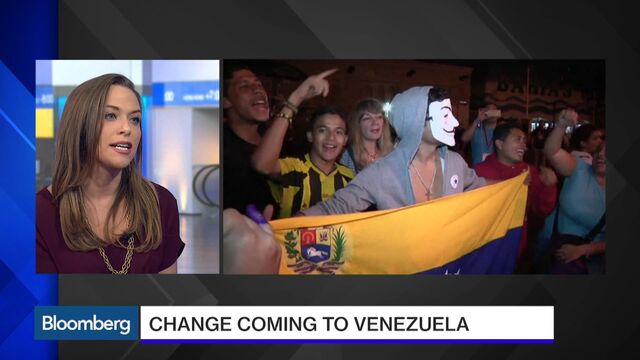 Venezuela's opposition leaders say they captured two thirds of the seats in congress in Sunday's election, a supermajority that offers them a powerful mandate for profound change, including trying to oust President Nicolas Maduro. The official tally has the opposition far ahead but not yet with the crucial two-thirds margin.
As final voting was tallied, it became clear that the leftist revolution started by the late Hugo Chavez, and continued by Maduro, had suffered an enormous defeat amid economic decline, falling oil prices and rising crime. After 16 years of socialist rule, Venezuelans wanted something else and, for the first time, voted that way.

"We didn't win by revenge, but by justice," opposition leader Henrique Capriles told reporters on Monday. "I ask our side, and others, please understand that we are living the worst crisis in history; we had never been in this situation."
Capriles said the opposition won by more than 2.3 million votes, capturing 112 of congress's 167 seats; the fate of four seats is still being determined. Venezuela's National Electoral Council said it would release final results later today. Its most recent count gave the opposition 99 seats to the ruling party's 46 with 22 seats still being counted.
Constitutional Change
If the opposition gains all 112 seats, by law it will be able to fire ministers, change the constitution, reshape the judiciary and electoral commission and start a process to recall the president. If it falls short, it will still be able to make a number of key changes, at the least, control of the budget process.
Either way, the country seems headed for deeper instability. "Chavismo," the political movement founded by Chavez, has never ruled with a divided government. And Venezuela's long battered political opposition has not controlled an institution for nearly two decades.
"All of this is uncharted waters for the government and the opposition," said David Smilde, a senior fellow at the Washington Office on Latin America. "Whatever happens, it's going to be a turning point."
Venezuelan bonds rallied the most in six months as investors wagered that the opposition would alter policies that have left the country reeling from triple-digit inflation, a shortage of dollars, empty store shelves and a deep economic contraction.
Freeing Prisoners
The victory is all the more noteworthy because Maduro ruled with tight control over the media and by occasionally arresting prominent opponents, including Leopoldo Lopez, a former mayor who is now in prison. One of the first acts of the opposition is likely to be to free him.
In opposition neighborhoods in upscale eastern Caracas on Monday, people took to the streets waving flags, honking horns and dancing after the announcements. Yet there was no visible suppression or sign that the elections had not been carried out in an orderly manner.
An opposition-controlled congress strikes a significant blow to the ruling Socialist party, which has had unfettered control of the country's institutions since Chavez was first elected in 1998. Maduro called the defeat a "a wake-up call," and promised his supporters a "rebirth of the revolution." He also blamed an economic war led by the U.S.
The vote is another blow to South America's bloc of left leaning leaders, who were ushered in following Chavez's rise to power. The pro-business opposition won Argentina's presidential election last month, ending 12 years of rule by President Cristina Fernandez de Kirchner and her late husband, while Brazilian President Dilma Rousseff is facing impeachment procedures as her country's economy is mired in recession.
Internal Divisions
In Venezuela, the growing backlash over the shrinking economy and rampant crime paved the way for the opposition, long hamstrung by internal divisions and distrust by the country's poor.
The victors, who face a monumental challenge in organizing themselves, wasted little time in promising a political shakeup. "Either the government changes and accepts our proposals or we will have to put forward a change in government," Capriles said.
A supermajority would not only allow the opposition to cast censure votes against Maduro's ministers, but also to oust the president and dissolve the country's institutions through what is called a constituent assembly, said Francisco Monaldi, a fellow in Latin American Energy Policy at the Baker Institute at Rice University in Houston. "It's a nuclear button," he said, adding that lengthy legal battles could ensue over the measure or contested congressional seats.
Some of the changes that seem likely to follow are an easing of subsidies on things like fuel and a currency devaluation.
Some worry the new majority could cause further paralysis. The government will still control numerous municipalities and governorships.
"The biggest concern is that both sides now focus on the fight for power, and not the economic issue," said Smilde.
Before it's here, it's on the Bloomberg Terminal.
LEARN MORE