This Year in Paris: Dreadlocks, Birkenstocks--and Lots of Suits
by
Climate-change summit attracting biggest names in business

`Businesses are part of the system just as much as government'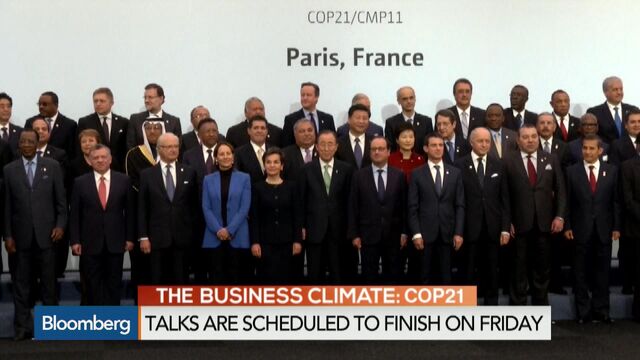 Among the dreadlocked protesters, Birkenstock-shod environmentalists and bleary-eyed negotiators gathering at the Paris climate summit, you'll find a less-expected cohort: besuited corporate types.
In the French capital this week, you can't swing a champagne flute without hitting one of the dozens of blue-chip corporate events -- a stark contrast from climate gatherings in Copenhagen, Cancun and Lima, where companies made only cameo appearances.

On Monday morning, executives from LafargeHolcim Ltd. and Monsanto Co. will discuss their climate "action plans" at a Left Bank hotel. Later that day, at the main conference site north of the city, HSBC Holdings Plc's Stuart Gulliver and Kellogg Co.'s John Bryant will address the "Caring for Climate Business Forum." On Tuesday, chief executives from Total SA, ABB Ltd. and Ericsson AB will gather in a 19th-century mansion near the Arc de Triomphe to discuss "energy for tomorrow."
The climate talks have become almost as big a draw for corporate leaders as the World Economic Forum in Davos, turning what was once a decidedly crunchy affair into a near must-do for the enterprising CEO. That comes after a concerted effort by United Nations officials to include businesses in the negotiations, but also because of a creeping realization that as the world seeks to limit global warming, there's tons of money to be made.
Being in Paris "is not just a way to make the world more sustainable, but also to promote our business and what we have to offer," said Peder Holk Nielsen, CEO of Denmark's Novozymes A/S, a maker of enzymes for the production of biofuels like ethanol. "Companies that have these solutions or parts of them stand to win with a strong agreement out of Paris."
Carbon Tax
The business presence spans industries and countries, reflecting the scale of the challenge of transforming energy production, transportation and agriculture to cut greenhouse-gas emissions -- changes that in many cases will have to be catalyzed by new regulations or tax incentives.

The United Nations Environment Program estimates it will take more than $1 trillion a year to build a worldwide "green economy," including triple-digit-billions for new farming technologies, renewable power generation, and retrofitting buildings for greater efficiency. If, as environmental groups and some companies advocate, major economies impose a price on carbon emissions, those investments will become more attractive.
"It is government that sets the rules, that sets the incentives," Elon Musk, CEO of electric carmaker Tesla Motors Inc., said at Paris City Hall on Friday. "The critical thing we need to do is correctly price carbon."
Many large companies aren't being driven toward Paris entirely of their own accord. They've had a push from big investors, particularly in Europe, that have begun to call for tough climate targets. 
As recently as two years ago, "I would have said, other than green funds or sustainable funds, we're not really hearing from investors" about climate worries, said Linda Fisher, chief sustainability officer at chemical giant DuPont. Now, "it's big institutions."
Late last year some 400 investors, representing more than $24 trillion in assets, signed a statement calling for faster action on carbon emissions. The document, which counted the likes of BlackRock Inc., Aviva Plc and AXA SA as signatories, said they were "concerned that gaps, weaknesses and delays in climate change and clean energy policies will increase the risks to our investments."
Eager to show investors they have their houses in order, many big companies are using Paris as a platform for pledges to cut emissions. As the summit kicked off, consumer-goods producer Unilever said it would become "carbon positive" by 2030, by eliminating fossil fuels from its operations and "supporting the generation of more renewable energy than we consume." Monsanto, vilified by many environmentalists for its sales of genetically modified foods, promised to become carbon-neutral by 2021.
Strange Bedfellows
Though they can sometimes make strange bedfellows, environmentalists say they're happy to have corporate allies -- whatever their reasons for coming to the climate table -- since they can provide a powerful voice in negotiations. 
"As long as nobody's breaking the law, I don't mind what the motivation is," said Kevin Moss of the World Resources Institute, an environmental group in Washington. "Businesses are part of the system just as much as government is. We want them to be part of writing the rules."
In the energy industry, the most aggressive changes are still largely a European affair; a joint letter from oil companies in June that called for comprehensive carbon pricing was signed by the CEOs of BP Plc, Royal Dutch Shell Plc, and Total -- but not Exxon Mobil Corp. or Chevron Corp., the two largest U.S. producers. (Exxon says it supports a "revenue-neutral carbon tax," while Chevron says it supports "solutions that achieve environmental objectives without undermining growth.")
Even the European stance, though, illustrates how the pursuit of profit is encouraging corporate action on climate. A casualty of a carbon price would be coal-fired power plants, which pollute much more than those that run on natural gas. Shell's $70 billion takeover this year of BG Group Plc gave it access to huge new gas projects in Brazil and Australia, while BP is expanding efforts to supply gas to China.
For large energy companies, "a modest carbon price that advantages natural gas over coal, but doesn't disadvantage natural gas against lower-carbon forms of energy, is the sweet spot," said Peter Frumhoff, the director of science and policy at the Union of Concerned Scientists. Those companies are also hedging their bets, Frumhoff said -- continuing work on Arctic exploration and oil-sands development in Canada that probably wouldn't be viable under a stringent climate regime.
Peter Bakker, a former CEO of logistics group TNT NV and now leader of the World Business Council for Sustainable Development, which counts dozens of corporate giants as members, says he's confident that even the holdouts will come around.
Climate change "is no longer just a conceptual notion in scientists' models, but is really happening," Bakker said. "The more certain it becomes that the world is moving toward a low carbon society, the clearer the opportunities."
Before it's here, it's on the Bloomberg Terminal.
LEARN MORE