Tennis Gamblers' Demand for Real-Time Betting Nets $70 Million Deal for Second-Tier Circuit
By
Sportradar said to pay $14 million per year through 2021

'One of the top sports worldwide in betting interest'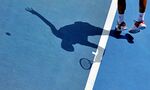 At the Santo Domingo Open this week, 32 no-name professional tennis players will scramble to climb a few slots up the rankings. Their matches, along with those played in low-level tournaments from Phnom Penh to Puerto Montt, will have an outsize importance at betting houses that fuel a global tennis gambling market estimated at $5 billion and growing.
For bettors, the sheer breadth of the International Tennis Federation -- 1,500 tournaments last year comprised 93,000 matches -- means there's almost always a game, set or match on which to wager. The tournament structure lends itself to short odds. Like playing the slots, betting on tennis resolves quickly, and it's on to the next.
For betting houses, this is all very lucrative. While tennis accounts for less than 10 percent of total sports bets, it generates 18 percent of overall online sports gaming revenue, excluding horse racing, said Warwick Bartlett, CEO of Global Betting & Gaming Consultants, which is based in Isle of Man. Six years ago, betting on tennis accounted for 2 percent of revenue.
To make this money the betting houses need live, in-game data feeds of point-by-point results. And they need them fast. Today the ITF announced that it has renewed its data partnership with Sportradar. The Switzerland-based sport data company agreed to pay $70 million over five years, according to a person familiar with the matter. At $14 million a year, that's a 500 percent increase over Sportradar's original deal with the ITF, according to the person.
"Given the year-round schedule and global status of the sport, tennis is one of the top sports worldwide in terms of betting interest and volume," said Ryan Rodenberg, assistant professor at Florida State University who has published several articles and papers on betting in tennis. "The speed and accuracy of data are where the value is."
Lucrative Data
For comparison, consider that Major League Baseball sold its data rights for around $3.5 million a year to STATS, which is owned by Vista Equity Partners. Given that MLB's biggest following is in the U.S., where gambling on sports is illegal in all but four states and in-game betting is largely unheard of, the market for real-time data is limited. 
"In the last 15 years, the betting sector has probably been the sector with the strongest appetite for sports data and the basis for data's successful commercialization," said Johannes Ranke, Sportradar's managing director of sports data & licensing.
Here's how it works: A bettor can wager point-by-point on any tennis match. Sportradar's computer algorithms recalculate odds with every point, giving customers a bevy of betting options on any particular match.
When the ITF sought bids for its data rights, it noted that in 2014 players from more than 125 nations competed in more than 1,500 events, producing almost 2 million games and almost 11 million points, according to a copy of the request for proposal reviewed by Bloomberg News.
Live Matches
Betting houses like U.K.-based William Hill increasingly covet sports properties that produce a large number of events in different parts of the world. Bettors are more likely to stay with -- and wager on -- a live match. They also tend to stay within a particular company's website longer if there's live betting, bookmakers said.
"There are definitely people who predominantly bet only on tennis and they would get on challenger and tour events just like a football punter would bet on non-league football or lower-league games even if they are not televised," William Hill spokesman Joe Crilly said.
According to the RFP, scoring data from the match umpire will go directly to the official data partner, giving Sportradar a 30-second jump on any other data platforms, including the ITF's own website.
At tournaments, the match umpire inputs data such as the current score, match progression and key events into a mobile device, the ITF told its potential data partners. That information is then sent to the data distributor (now Sportradar) via 3G/4G or a Wi-Fi Internet connection provided by the tournament.
At matches where there isn't an umpire, the official data partner has the right to send someone to the event and collect live scoring data, and the ITF in the proposal said it would use "reasonable endeavors" to disrupt and discourage the unofficial collection of data.
This hints at a longtime concern within tennis about what is called courtsiding -- people attending matches expressly to send scoring data via mobile device to gambling websites or data companies for a profit. The information sent by courtsiders is often quicker than a live feed via television or the Internet, giving gamblers an advantage when placing bets.
Corruption Concerns
As betting on tennis has grown, so too has the concern of match fixing.
In 2008, tennis became one of the first sports to set up its own anti-corruption program. The Tennis Integrity Unit, a joint initiative of the ITF, ATP, WTA and grand slams, was founded after suspicious betting on a match in August 2007 involving Nikolay Davydenko, then ranked No. 4 on the men's tour. The Russian was cleared of any wrongdoing by the men's tennis tour in 2008 after a 13-month investigation.
That said, according to a report from the European Sports Security Administration, or ESSA, tennis in the third quarter of 2015 raised 73 betting alerts, the most of all sports tracked. Eighteen of those were found to be suspicious and reported to the relevant regulatory body for investigation.
"Tennis again constituted the highest number of suspicious alerts, reflecting a worrying trend," said the report from ESSA, which represents some of the world's biggest regulated sports betting operators.
A betting pattern is deemed unusual or suspicious, ESSA says, when it involves unexpected activity with atypical bet sizes or volumes that continue even after significant price corrections have been made.
Many in the U.S., including National Basketball Association Commissioner Adam Silver, think that legalized and federally regulated sports betting is on the horizon. Three NBA team owners, Mark Cuban, Michael Jordan and Ted Leonsis, have invested in Sportradar and sit on the company's U.S. advisory board. Last month, Major League Baseball signed a multiyear contract with gambling watchdog SportIM to do for the sport what ESSA does for global sports. (Sportradar and others also offer similar services.)
The possibility of legalized betting would open up another market for the data generated by the major U.S. sports leagues and bolster its value. The National Football League and National Hockey League also have agreements with Sportradar for data feeds that, for now, exclude the betting houses.