Puerto Rico Supreme Court Hearing Raises Negotiations Risk
by
Supreme Court may review case in March and decide in June

`It gives them an additional stick,' MMA's Fabian says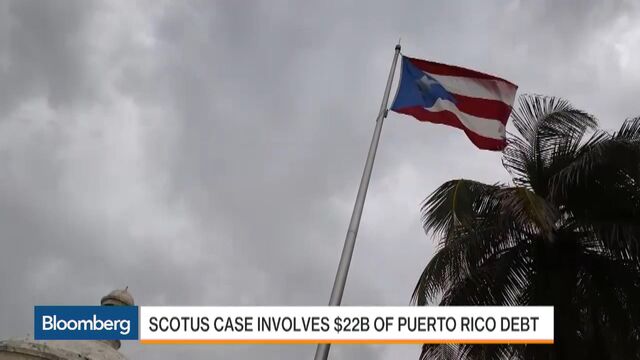 The U.S. Supreme Court's decision to review a Puerto Rico local debt-restructuring law rejected by a lower court risks prolonging negotiations with creditors to reduce the island's obligations just as the commonwealth says its running out of cash.
The high court Friday said it would hear an appeal by the commonwealth to reinstate an island law that would allow some public agencies to ask bondholders to accept losses on the securities they hold. The disputed law would affect about $22 billion of the $70 billion in debt that Puerto Rico is seeking to impose losses on for holders.
Restoring the law would give the commonwealth additional leverage as it negotiates with mutual funds, hedge funds, bond-insurance companies and lenders, said Matt Fabian, a partner at Concord, Massachusetts-based Municipal Market Analytics. Puerto Rico may also decide to put on hold an agreement between the Puerto Rico Electric Power Authority and some bondholders to reduce the utility's $8.2 billion in obligations through a debt exchange, he said. Insurers who guarantee a portion of the debt still need to sign off on the accord and the island's legislature must ratify the agreement.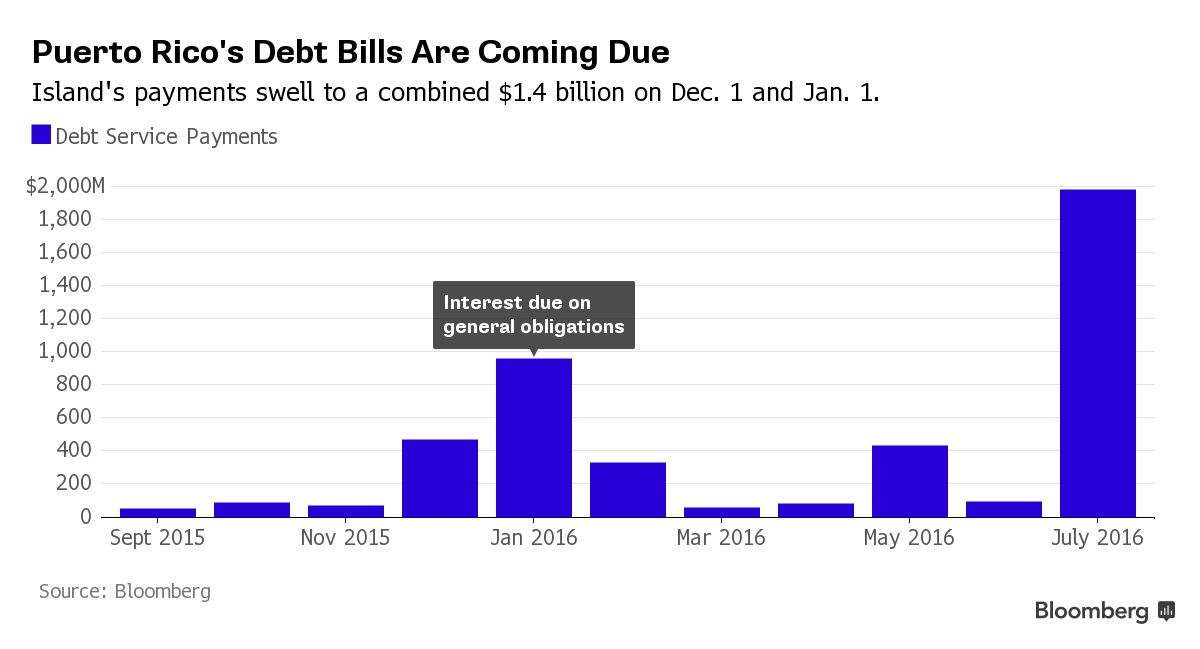 "It gives them an additional stick with which to threatened creditors," Fabian said. "And that restructuring agreement is tenuous enough that this is one more burden that just might break it up," he said about the Prepa bondholder accord.
Puerto Rico and its agencies borrowed for years to paper over budget deficits as the island's economy struggled to grow. Lawmakers in June 2014 passed the debt-restructuring law to help some corporations negotiate with creditors and cut their debts. Governor Alejandro Garcia Padilla a year later said investors need to take losses to help the island's economy expand again.
"The administration will continue to work on its negotiations with creditors regardless of events occurring in the court system and in the federal legislature," Jesus Manuel Ortiz, spokesman for the governor, said Monday during a press conference in San Juan.
The court may hear arguments as soon as late March and rule by June. Prepa faces deadlines before then: a $196 million interest payment is due Jan. 1.
No Bankruptcy
The commonwealth says the debt-restructuring legislation fills a gap in federal bankruptcy law, which prohibits filing by Puerto Rico and its agencies and municipalities. BlueMountain Capital Management, Franklin Advisers Inc. and OppenheimerFunds, which hold more than $2 billion in Prepa bonds, are fighting against the local law and claim a high court review is unnecessary because they've already agreed to a restructuring plan with the power utility.
Reinstating the law would give Puerto Rico another bargaining tool with investors because the legislation was written to favor the commonwealth and give it broad powers to determine what debt needs to be restructured and how, Fabian said.
Puerto Rico may wait to finalize investor negotiations until the high court makes its decision, said Daniel Solender, who oversees about $17 billion, including commonwealth securities, as head of municipal debt at Lord Abbett & Co. in Jersey City, New Jersey.
"It defiantly slows down the whole process," Solender said. "It creates a lot more uncertainty. They're going to have to make the decision if they think they'll get a better result by waiting for a Supreme Court decision."
Franklin and OppenheimerFunds have argued that the restructuring law is an unconstitutional impairment of contract and violates protection of private property under the Fifth and Fourteen Amendments. If the U.S. District Court in San Juan were to rule in favor of those challenges, it would invalidate the law, according to John Mudd, an attorney in San Juan who specializes in bankruptcy and constitutional law.
Dan Zacchei, a representative in New York at Sloane & Co. for Prepa bondholders that have entered into a restructuring support agreement with the utility, declined to comment.
"The U.S. District Court and the U.S. Court of Appeals for the First Circuit previously held in two successive well-reasoned opinions that the Bankruptcy Code pre-empts the Debt Enforcement and Recovery Act," Stacey Coleman, a spokeswoman for Franklin, said in an e-mail. "We look forward to making the same case to the U.S. Supreme Court."
"We are eager to proceed to briefing and argument to the Supreme Court on this important case," said Kimberly Weinrick, a New-York based spokeswoman for OppenheimerFunds.
"BlueMountain is closely following the Supreme Court's decision to grant certiorari," Doug Hesney, who represents BlueMountain at Dukas Linden Public Relations, said in an e-mail. "We look forward to presenting our arguments to the court."
Before it's here, it's on the Bloomberg Terminal.
LEARN MORE