Convicted Murderer Pistorius Granted Bail as He Seeks New Appeal
by
Pistorius remains under house arrest, his movement restricted

Double-amputee athlete shot girlfriend Steenkamp in 2013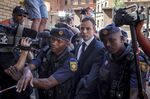 Oscar Pistorius was granted 10,000 rand ($681) bail following his conviction for the murder of his girlfriend Reeva Steenkamp on Valentine's Day two years ago.
Pistorius, 29, will seek to appeal his murder conviction at the Constitutional Court, defense lawyer Barry Roux told the High Court in Pretoria, the capital, on Tuesday. If that fails he could face a 15-year jail term. Prosecutor Gerrie Nel said that while the state accepted his right to appeal, there was no basis for a successful legal challenge.
As Pistorius stood in court, Judge Aubrey Ledwaba told him that under the bail conditions, he must remain under house arrest at his uncle's home, where he has been serving part of his previous five-year sentence for culpable homicide since October. While he is allowed out of the property from 7 a.m. to 12 p.m., he is subject to electronic monitoring and is banned for traveling more than 20 kilometers (12 miles) from the house.
He will next return to court on April 18 to provide an update on his Constitutional Court appeal. The defense has 15 days to submit the appeal to the court, Luvuyo Mfaku, a National Prosecuting Authority spokesman, said by phone.
South Africa's Supreme Court of Appeal overturned the manslaughter verdict on Dec. 3 that a High Court judge handed down in October last year. Pistorius shot Steenkamp with four hollow-point bullets in his bathroom.
Since the shooting on February 14, 2013, Pistorius lost sponsorship deals with companies including Nike Inc., Luxottica Group SpA's Oakley and Ossur hf. After an eight-month trial and several appeals, he can't afford bail of more than 10,000 rand, Roux said. 
Known as the Blade Runner because of his J-shaped prosthetic blades, Pistorius won six Paralympic gold medals and was the first double-amputee runner to compete at the Olympic Games. He was born without fibula in both legs, which were amputated when he was 11 months old.
Before it's here, it's on the Bloomberg Terminal.
LEARN MORE