Osborne Says Answer to U.K. Demands From EU Shows Progress Made
by
Osborne says U.K. making more progress than people anticipated

EU President Tusk published response to Cameron demands Monday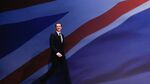 Chancellor of the Exchequer George Osborne said European Union President Donald Tusk's response to the list of demands set out by Britain to reform its relationship with the bloc shows "quite a lot of progress" has been made.
"It's a complicated and robust negotiation but the information released today shows we're making much more progress than people imagined in getting agreement across member states to address these issues," Osborne told an event at the Council on Foreign Relations in New York. "It shows we have made quite a lot of progress."
Earlier Monday, Tusk published his response to a list of demands sent to him by U.K. Prime Minister David Cameron in November. Cameron has pledged to put the results of the negotiations to a referendum by the end of 2017. One of the prime minister's chief requests -- curbing so-called in-work benefits for EU migrants -- is also proving the most contentious.
Cameron acknowledged last week in a phone call to German Chancellor Angela Merkel that
a deal on the terms of Britain's membership remains elusive, and the matter would probably not be resolved on Dec. 17-18, the last EU summit of the year. Tusk underlined this on Monday by saying there was "no consensus" on the request that people coming to Britain from the EU must contribute for four years before they qualify for benefits.
'Political Dilemmas'
Tusk said in a letter to EU governments published on the European Council's website that the December summit should address all "political dilemmas" and prepare a "concrete proposal" to be adopted in February, when leaders are next scheduled to meet.
"I think Donald Tusk's letter is encouraging in that the British reform agenda is being taken on, it's going to be discussed and I hope it'll be brought to a successful conclusion," Cameron said during a visit to northwest England.
The request to curb in-work benefits is "the most delicate and will require a substantive political debate at our December meeting," Tusk said in the letter. "This is certainly an issue where we need to hear more from the British prime minister and an open debate among ourselves before proceeding further."
Before it's here, it's on the Bloomberg Terminal.
LEARN MORE