Orange Said in Early Talks to Buy Bouygues Telecom, Media
By , , and
Bouygues said to consider minority stake in new company

Bouygues Telecom may be valued at up to $11 billion: analyst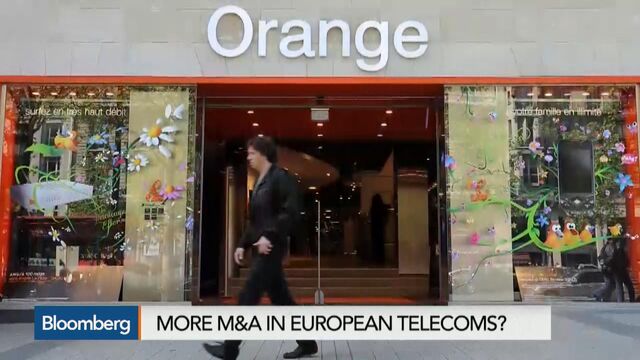 Orange SA is in early talks about buying Bouygues SA's phone and television businesses, according to people familiar with the matter, in a move that would reduce the number of wireless carriers in France and follow in rivals' footsteps of bringing telecommunications and media together.
A tie-up with its domestic rival is among several possibilities the French carrier is considering, said the people, asking not to be named discussing private deliberations. In a potential deal, Bouygues would carve out its construction unit and retain a minority stake in the combined media and telecom business, according to three of the people. No formal offer or decision has been made and the companies are weighing how they could overcome significant antitrust and regulatory hurdles, they said.

A deal would combine Orange, France's biggest mobile and fixed carrier, with Bouygues Telecom, which has been fighting off Iliad SA to keep its third spot in the mobile market. Orange has struggled to sustain domestic sales and earnings growth as competition from lower-cost providers has pushed down call and data prices. Bouygues Telecom, which also offers Internet access, had been a cash cow for the company until a price war triggered by Iliad's 2012 entry in the wireless market wiped out its profit.
Bouygues "has no plans to withdraw from the telecoms and television sectors and reaffirms its long-term presence in these two industries," the Paris-based company said in an e-mailed statement Tuesday. A spokesman for Orange declined to comment on "rumors" that the company believes have "artificially" moved the market over the past two years.
Orange rose 0.8 percent to 15.62 euros at 12:15 p.m. in Paris. Bouygues, which owns a 44 percent stake in Societe Television Francaise 1, France's biggest private television company, climbed 1.9 percent to 35.06 euros.
'Larger Scope'
French carriers tried unsuccessfully to go from four to three through a variety of scenarios over the past few years. With the latest auction of wireless frequency out of the way -- France raised 2.8 billion euros in November from selling blocks of capacity-- it's not surprising that phone companies would renew talks, Vincent Maulay, an analyst at Oddo Securities, wrote in a note. 
Orange could offer as much as 10 billion euros ($11 billion) for Bouygues Telecom, Maulay said. Bouygues' stake in TF1 has a market value of about 1.05 billion euros. Orange, whose assets extend to the Middle East and Africa, has a market value of about 41 billion euros.
In June, Bouygues rejected a bid for its phone unit by Numericable-SFR, the phone and cable company controlled by Patrick Drahi, that valued the business at at least 10 billion euros. Chief Executive Officer Martin Bouygues and the board quickly decided against starting talks, saying a deal posed a risk to jobs and would face antitrust hurdles. France's Economy Minister Emmanuel Macron criticized the merger plans at the time and advised his country's telecom moguls to invest in infrastructure rather than indulge in dealmaking.
Martin Bouygues may have changed his mind so quickly because a deal with Orange would include the media assets, Thomas Coudry, an analyst at Bryan Garnier, wrote in a note. "The project involves a larger scope with an aim to build a large convergent player, which might seem like a more appealing project to Martin Bouygues," Coudry said.
Martin Bouygues and brother Olivier have about 27 percent of the voting rights at Bouygues. While there are independent directors on the board, many have close ties to the company. Bouygues' media business mostly consists of its stake in TF1, which has four freeview channels as well as pay-TV theme channels.
Macron, speaking to reporters Tuesday after a conference in Paris, declined to comment about a possible deal between Orange and Bougyues. The French state owns about 25 percent of Orange.
Regulatory Hurdles
Orange's plans reflect a wave of consolidation that has swept Europe's telecommunications industry, as well as prompted phone and media companies to seek alliances. British phone company BT Group Plc this year agreed to buy the U.K.'s largest wireless carrier EE, which is half owned by Orange, for about $19 billion. In France, billionaire Drahi acquired SFR to create Numericable-SFR, and bid for NextRadioTV to take over one of the country's biggest news channels.
Europe's competition authorities have been the biggest obstacle to such deals. In September, TeliaSonera AB and Telenor ASA were forced to scrap the merger of their Danish businesses after the European Commission opposed the deal that would have reduced the number of competitors in the country from four to three.
Orange is working with advisers to explore options for an expansion in Europe, people familiar with the matter said last week. The company said at the time it has no plans to merge with Telecom Italia SpA, reacting to reports that it is seeking expansion beyond its home market.
Seeking a deal at home instead of elsewhere in Europe would make more sense for Orange, Agathe Martin, an analyst at Exane BNP Paribas, wrote in a note.
"While we see little benefits in cross-border M&A, we think there is large upside potential from in-country consolidation," Martin wrote. A transaction with Bouygues would "lead to substantial cost and capex synergies and see Orange follow the recent trend of telco-media deals."