McGrath Shares Drop on Debut as Australia Home Market Cools
By
Stock fell as low as A$1.92 vs. A$2.10 apiece in IPO

Sydney home values fell the most in five years in November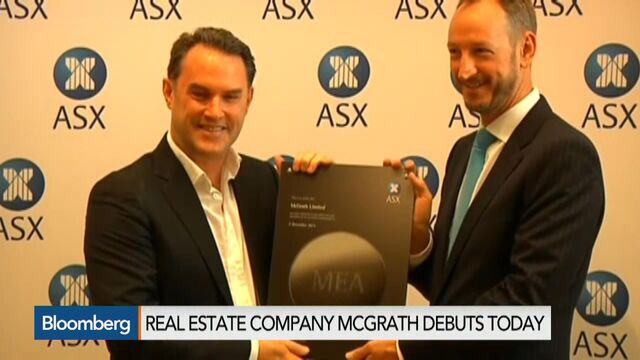 McGrath Ltd., Australia's first real estate agency to list on the stock exchange, fell 8.6 percent from its initial public offering price in its debut in Sydney, a week after data showed home values in the city dropped the most in five years.
The shares traded as low as A$1.92 compared with the offer price of A$2.10. Existing investors, including millionaire founder and Chief Executive Officer John McGrath, sold 31 million of their shares as part of the IPO, which raised A$129.6 million ($95 million), according to the prospectus. The stock was trading at A$1.95 as of 12:46 p.m. local time. The benchmark S&P/ASX 200 Index rose 0.5 percent.
"We are in a good position," McGrath said after the listing in Sydney on the Australian stock exchange Monday. "Our growth prospects are outstanding. I think you need to be careful when you judge the share performance based on day-to-day fluctuations."
The IPO values McGrath at A$272.1 million and will provide the funds to reduce debt and pay for the acquisition of a smaller competitor, the firm said in its prospectus. The transaction comes as home values dropped 1.4 percent in Sydney in November and successful auctions declined to a three-year low in Australia's most-populous city as record prices put off buyers.
Different Markets

The realtor has 3 percent national market share and aims to take it past 20 percent in the medium term, McGrath said. The company plans four to six acquisitions over the next four to five years, he said.
"Australia has many different markets," he said. "Sydney and Melbourne markets, there is no doubt, are at the end of the growth cycle. We don't depend on one or two markets. Our business is about volumes and interestingly when the markets calm, we see volumes go up."
McGrath, which owns some branches and operates others under franchises, has a presence on the east coast, predominantly in New South Wales state and the Australian Capital Territory, and is expanding in Queensland state, according to the prospectus.
The real estate agency plans to establish an operation in Victoria state, the prospectus showed. McGrath has a 7.2 percent market share in NSW and 5.4 percent in the ACT.
About A$64.2 million from the IPO will be used to pay existing shareholders, A$31.5 million to pay for the acquisition of 10 offices from franchisee Shane Smollen and A$15.9 million to repay debt, the prospectus shows. About A$7.9 million will be for working capital.
CEO McGrath will own 27 percent of the company after the IPO, down from 58.4 percent, according to the prospectus. He has pledged not to sell his stake until the release of 2017 results.
Bell Potter Securities Ltd. and JPMorgan Chase & Co. are managing the share sale.