Lawrence Pugh, Who Led VF Past Levis in Jeans, Dies at 82
Stephen Miller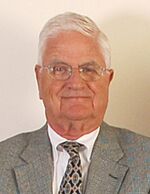 Lawrence Pugh, who built VF Corp. into the largest publicly held U.S. apparel manufacturer and propelled it past Levi Strauss & Co. as the biggest jeans maker by adding Wrangler to its Lee brand, has died. He was 82.
He died Dec. 3 at NCH Healthcare System's Downtown Hospital in Naples, Florida, his wife, Jean Pugh, said in a telephone interview. The cause was respiratory failure.
As chief executive officer from 1982 to 1995, Pugh increased annual sales at VF, then based in Wyomissing, Pennsylvania, almost seven-fold to $5.06 billion through acquisitions and marketing innovations.
His purchase in 1986 of Blue Bell Holdings, then the second-largest jeans maker, added the Wrangler label to VF's Lee brand. The $792 million purchase, including $414 million of assumed debt, gave the combined company 27 percent of the U.S. jeans market, overtaking San Francisco-based Levi Strauss, with 22 percent, the Wall Street Journal reported in 1991.
The jeans business "grows a little and declines a little," Pugh said, according to a New York Times profile following the Blue Bell deal. "But still it's a huge business. It's the biggest single category within the apparel business, and we think it has great opportunities."
The acquisition of Blue Bell, which was based in Greensboro, North Carolina, also added Jantzen swimwear and sportswear to VF's product lines.
Marketing Moves
VF was among the first companies to market denim jeans to women in the early 1980s, according to the Journal article. It later capitalized on expanding markets for outdoor and action sports, and flamboyant lingerie. VF's brands included Vanity Fair, the second-largest bra maker, and Health-Tex children's clothes, which Pugh added in 1991.
"We are covering every retail segment and every consumer segment, and we are No. 1 in each category because of our multiple brand strategy," he said, according to a 1992 profile in Chief Executive magazine.
In the early 1990s, Pugh oversaw development of a "quick response" inventory-management system. The electronic network linked VF's plants and distribution centers with retail outlets such as Wal-Mart Stores Inc. locations. Records of individual sales of jeans were transmitted to the manufacturer, enabling VF to replenish a retailer's stock within a week, according to a 1992 Times article.
At a time when 55 percent of garments sold in the U.S. were manufactured outside the country, VF under Pugh stood out for making most of its products in its home market.
Nothing Fancy
"We can do this because we are not in 'high-needle' sewing labor products," he said, according to Chief Executive, referring to labor-intensive garments such as women's dresses and men's suits.
Today, VF owns the North Face, Nautica and Timberland brands, and is based in Greensboro.
Lawrence Reynolds Pugh was born Jan. 22, 1933, in White Plains, New York. He was the son of Howard Reynolds Pugh, a banker, and the former Marjorie Slosson.
He attended the Salisbury School in Salisbury, Connecticut, and in 1956 received a bachelor's degree in administrative science from Colby College in Waterville, Maine. After graduating, he was drafted into the U.S. Army.
In 1958, Pugh joined Chicago-based Borden Milk Co. as a division sales manager. In 1966, he became a product manager at the Hamilton Beach unit of Waterbury, Connecticut-based Scovill Manufacturing Co. He moved to Redwood City, California-based Ampex Corp., a maker of recording tape, as director of marketing in 1970. Two years later, he joined the Samsonite Luggage division of Chicago-based Beatrice Cos., where he was named president in 1975.
Succeeding Lee
Pugh moved to VF as president in 1980. He was promoted to CEO in 1982 following the death of his predecessor, Manford O. Lee, according to an account in the Times.
At Colby College, Pugh led two capital campaigns and was a life trustee. He was chairman of a commission that in 1983 called for the abolition of fraternities, according to his obituary at the college's website. The recommendation was accepted.
Pugh, an enthusiastic golfer, was a member of the Augusta National Golf Club in Georgia.
He lived in Naples and Falmouth, Maine.
His survivors include his wife, former Jean Van Curan, whom he married in 1956; their daughters, Deborah Pugh Kelton and Diane Pugh Esecson; and four grandsons.
(Updates with inventory-management system in the ninth paragraph and Pugh's places of residence in the penultimate paragraph.)
Related ticker: VFC US (VF Corp.)
Before it's here, it's on the Bloomberg Terminal.
LEARN MORE