Latino Clout Turns on Supreme Court View of One-Person-One-Vote
By
Supreme Court called on to interpret half-century-old standard

Appeal may give more representation to Republican strongholds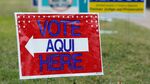 It turns out the idea of "one person, one vote" isn't as simple as it sounds.
The U.S. Supreme Court will put that half-century-old constitutional principle to the test Tuesday, hearing an appeal that liberal groups say would transform the way legislative maps are drawn, giving more voting clout to Republican strongholds and less to Hispanic communities.
The debate centers on an issue that until recently had appeared to be settled. For decades, map-drawers virtually everywhere have tried to equalize the size of districts based on their total population. Now an appeal pressed by two Texans, including a Republican county chairwoman, says the measure should be eligible voters, an approach that would reduce representation for areas heavy with children and non-citizens.
The court is being asked to "start a reapportionment revolution, radically changing the way states and local governments draw election districts," said David Gans, a lawyer at the progressive Constitutional Accountability Center in Washington.
The case touches on a fundamental question about the role of elected representatives, asking whether they serve on behalf of everyone in their district or only those eligible to cast ballots. That issue has taken on greater importance as the share of non-citizens in the U.S. has grown. The number has risen from 2 percent in 1970 to 7 percent in 2013, according to the nonpartisan Migration Policy Institute in Washington.
"America has a different population than it did 50 years ago, and our election laws must take account of that," said Edward Blum, whose Project on Fair Representation is behind the challenge to Texas's voting map.
Congressional Impact
The high court case directly affects only state redistricting, though it has the potential to influence congressional maps as well. The 14th Amendment requires the 435 U.S. House seats to be apportioned among the states on the basis of total population, but it doesn't specify what rules apply to line-drawing within the states.
The legal fight stems from the Supreme Court's landmark 1964 Reynolds v. Sims ruling, which established the "one person, one vote" standard and said the Constitution's equal protection clause requires states to make their voting districts roughly the same size.
Reynolds was a milestone for the civil rights movement, voiding maps across the country that had disproportionately allocated legislative seats to heavily white rural areas.
Voters Sue Evenwel and Edward Pfenninger are now trying to use that principle to force changes in the Texas Senate map, claiming they are underrepresented compared to voters in other districts. In court papers, they said Evenwel's east Texas district has 558,000 citizens of voting age, compared with 358,000 in the district that includes Brownsville, on the Mexican border.
'Arbitrary Malapportionment'
That "massive and arbitrary malapportionment of eligible voters is patently unconstitutional," Evenwel and Pfenninger argued.
Civil rights groups say that approach would be a blow to Hispanic communities, which tend to have both more children and more non-citizens than other areas.
Seats in the Republican-controlled Texas Senate would shift toward older, whiter parts of the state and away from more diverse areas of Houston and Dallas as well as south and west Texas, according to a brief filed by the Mexican American Legal Defense and Educational Fund.
"When your community loses seats, you lose a voice," Nina Perales, the group's vice president of litigation, told reporters.
She said Evenwel and Pfenninger's argument is ironic given that Texas was awarded additional U.S. House seats based on its non-citizens and children.
Options for Governments
Texas officials are defending their map, but with a catch. They say the Constitution gives options to state and local governments, letting them decide to equalize districts based either on total population or those eligible to vote.
"The equal protection clause does not compel a state to choose a particular population base when reapportioning," the state argued.
The Obama administration is urging a more limited ruling. U.S. Solicitor General Donald Verrilli says the court should uphold the Texas map and its use of total population, without suggesting that officials might have other options.
Those advocating for total population say any other measure would be fraught with practical problems. States can rely on the once-a-decade U.S. Census to map total population, but no comparable data exists to allow the use of eligible voters, according to a brief filed by Nathaniel Persily, a Stanford Law School professor who specializes in election law.
Statistical Survey
A brief on the other side argues that map-makers can reliably use a separate survey, conducted by the Census Bureau based on statistical samples, that provides estimates of the citizen voting-age population. That brief was filed by demographers led by Peter Morrison, founding director of the RAND Corp.'s Population Research Center.
The two sides are likewise divided on the potential impact. Persily says that, should the court make eligible voters the new standard, most states would have to redraw their lines, as would cities and school boards. Blum says only a handful of states -- Texas, California, Arizona and possibly Nevada, New York and New Jersey -- would feel a significant impact.
The middle-ground approach -- giving governments an option -- could instigate a wave of redistricting efforts in Republican-controlled states. That, Perales said, "would lead to a barrage of lawsuits."
The case, which the court will decide by June, is Evenwel v. Abbott, 14-940.