Jes Staley Said to Mull Deeper Cuts at Barclays Investment Bank
by
Bank said to focus job cuts on Asia, global cash equities

Reductions come on top of existing cost-cutting program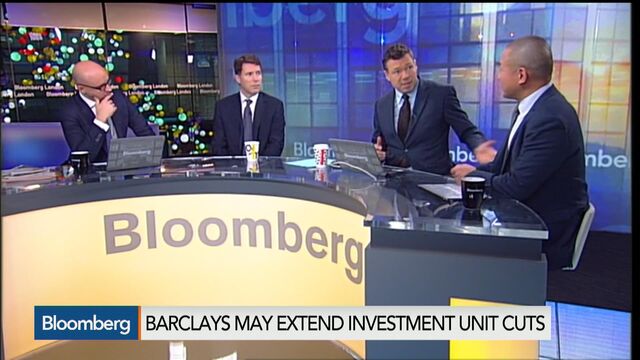 Less than a week into his new job, Barclays Plc Chief Executive Officer Jes Staley is mulling deeper cuts at the securities unit that could see an additional 20 percent of bankers lose their jobs, according to people with knowledge of the matter.
Under the plan, the bank is looking to eliminate jobs in Asia and the global cash equities business, the people, who asked not to be identified because the strategy is private, said late Friday. The cuts, which would come on top of an existing program to reduce 7,000 jobs at the investment bank through 2016, could be announced early next year, with the Asia securities division not considered competitive and profitable enough, they said.

"The focus of Barclays's 'new' investment bank is the U.S. and the U.K. and everything else is peripheral, so no surprise Asia is taking the biggest hit," said Christopher Wheeler, an analyst in London with Atlantic Equities LLP. "The problem is that the investment bank has been subject to 'death by a thousand cuts' and morale has been hard hit. It must be hoped this is the last big culling, if the franchise is to survive."
Securities 'Weaponry'
Staley, who took over Dec. 1, has been tasked with improving profitability at the investment bank, which is lagging the lender's other divisions and has been hurt by rising costs tied to past misconduct and tougher capital requirements. Since joining in April, Chairman John McFarlane, 68, has pledged to refocus the business on the U.K. and U.S. and has said the bank is reviewing the contributions of operations in Asia and the Middle East, because "we don't like places that don't make money."
A spokeswoman at Barclays said in a statement on Friday that the bank is "constantly monitoring our opportunities in different geographies and businesses." Barclays employed 20,500 people at the securities unit at the end of 2014.
"The investment bank is the place where we think the returns can be boosted most," Sandy Chen, an analyst at Cenkos Securities Plc in London with a hold recommendation on Barclays shares, told Bloomberg Television's Jonathan Ferro on Monday. Staley "is getting his feet on the ground. He knows investment banking, he knows how to handle all the weaponry on various desks."
Barclays rose 1.1 percent to 232.10 pence at 8:55 a.m. in London, paring losses this year to about 4.6 percent.

Barclays doesn't break out figures for the cash-equity business. The bank has been cutting costs at its Asia-Pacific operations, where it generated revenue of 776 million pounds ($1.2 billion) in 2014, about 3 percent of its total, compared with 12.4 billion pounds in the U.K. The bank employed 18,200 staff in the region at the end of last year, according to its annual report.
Other banks are also shutting businesses to focus on more profitable areas. Morgan Stanley is planning to cut as much as a quarter of its fixed-income staff after years of revenue declines and insufficient returns, people with knowledge of the plans said Dec. 1. Standard Chartered Plc, which makes almost all of its profit in Asia, said Nov. 3 it would eliminate 15,000 jobs to help save $2.9 billion by 2018.
When he was appointed in October, Staley told staff he would "complete the necessary transformation and repositioning of the investment bank to a less capital-intensive model" and restore a "collaborative" relationship with regulators. While the securities unit, headed by Tom King, contributes about a third of the bank's revenue, it has the lowest profitability of four units with a 2.7 percent return on equity in 2014.
'Incremental Cuts'
"Incremental cuts will make total sense in the context of the weak revenue outlook" for the investment bank, said Ian Gordon, an analyst at Investec Plc, who has a buy rating on the stock. Gordon estimates Barclays will cut 600 million pounds of costs from the investment bank between 2014 and 2017, with group revenue set to drop 3 percent this year.
Staley, a former JPMorgan Chase & Co. investment banker, inherited a strategy from his predecessor Antony Jenkins that involved cutting about a third of employees at the division while reducing its share of total total risk-weighted assets to about a third from a half. Under existing plans, the bank was set to eliminate some 4,500 positions by the end of this year, with a further 2,500 cuts in 2016.
'Tough Goal'
Mike Rake, who is stepping down as Barclays's deputy chairman at the end of the year, has said Staley will prioritize the investment bank's advisory and execution operations in London and New York, which includes mergers and acquisitions, debt capital markets and equity capital markets.
"The idea of providing more advisory services does seem a tough goal," Atlantic Equities's Wheeler said. "Deutsche Bank has said something similar. However, a brief look at the M&A league tables will tell you how entrenched Goldman Sachs, JPMorgan, Morgan Stanley and Bank of America are" in this area.
Before it's here, it's on the Bloomberg Terminal.
LEARN MORE