Greenhouse Gases Seen Falling in 2015 in Boost for Climate Talks
by
First pollution drop during period of strong economic growth

CO2 output must peak by 2020 for best chance to limit warming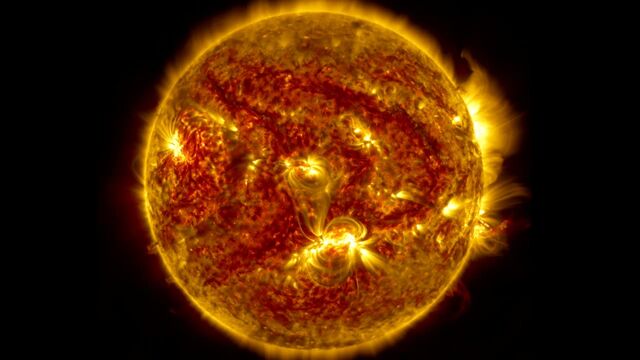 Greenhouse-gas pollution probably fell this year after slowing in 2014, the first decline during a period of strong economic growth and a boost for the effort by the United Nations to rein in climate change.
Climate Change: A Global Push to Save the Planet
Carbon dioxide emissions from fossil fuels and industry may decline by as much as 1.6 percent in 2015 because of China's slowing economy and efforts to limit pollution, researchers at the U.K.'s University of East Anglia and the Global Carbon Project said Monday in the journal Nature Climate Change.
"What we are now seeing is that emissions appear to have stalled, and they could even decline slightly," said Corinne Le Quere, the professor at UEA who led the research. "The projected decline is largely down to China's decreased coal use, driven by its economic adjustment."

The study was published as envoys from 195 nations gathered by the UN enter a second week of talks in Paris about a deal on global warming. Their goal is to limit the rise in temperatures since pre-industrial times to 2 degrees Celsius (3.6 degrees Fahrenheit). Most scenarios analyzed by UN researchers that meet that goal have global emissions reaching a peak this decade and then falling. 
Emissions last year grew by 0.6 percent, compared to the average annual increase of 2.4 percent for the preceding decade, according to the paper. This year, the researchers project the change in greenhouse gas output will range between a 0.5 percent rise and a 1.6 percent fall, with a best estimate of a 0.6 percent decline.
"Whether a slower growth in global emissions will be sustained depends on the use of coal in China and elsewhere, and where new energy will come from," Le Quere said. "It is unlikely that emissions have peaked for good. This is because energy needs for growing economies still rely primarily on coal, and emissions decreases in some industrial countries are still modest at best."

Before it's here, it's on the Bloomberg Terminal.
LEARN MORE