Germany Struggles With Nearly One Million New Refugees in 2015
by
Registered asylum seekers climb to 965,000 through November

Migrant influx has tapered off `significantly' in recent days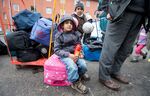 The number of asylum seekers making their way to Germany this year approached one million as Chancellor Angela Merkel's government struggles to shelter and register the influx of migrants fleeing war and poverty.
The number of registered asylum seekers rose to about 965,000 by the end of November, exceeding the government's full-year forecast from August of 800,000, Interior Minister Thomas de Maiziere told reporters in Berlin Monday. Double registrations would likely reduce that number, though de Maiziere declined to give another full-year estimate.
QuickTake Europe's Refugee Crisis
"It was exceeded because of the especially increased numbers since mid-August to Germany and also other European states," de Maiziere said. "This development has been a huge challenge to the federal government and communities."
Europe's biggest refugee crisis since World War II has become the most serious challenge of Merkel's decade-long chancellorship, with states and communities buckling under the need to shelter and feed the migrants. While the processing time for applications had been shortened, de Maiziere said more measures would be taken to speed the flow. 
The influx of refugees in recent days has slowed "significantly," de Maiziere said. While the reasons aren't clear, the minister said both weather and actions by the Turkish government to halt passage to Greece over the eastern Aegean Sea could be factors.
Of the 965,000 registered this year, just over half are Syrians seeking refuge from the country's civil war, according to the Interior Ministry. The next largest groups were from Afghanistan and Iraq, making up 13 percent and 10 percent of the whole respectively.
The statistics for November offer a snapshot of Germany's struggle. Some 206,000 refugees were newly registered last month, according to the ministry. In all, 57,816 migrants applied for asylum. Authorities had processed 35,422 applications and granted asylum to 24,971, or about 70 percent. About 10,000 applications were either rejected or not approved for other reasons.
De Maiziere said increased staffing and possibly adding more shifts would help reduce the backlog by the second quarter of 2016.
Before it's here, it's on the Bloomberg Terminal.
LEARN MORE