Emerging Stocks Drop, Currencies Weaken to Record on Oil Plunge
by
Energy shares fall to lowest since October as Cnooc sinks

Colombia's peso leads gauge of 20 currencies to record low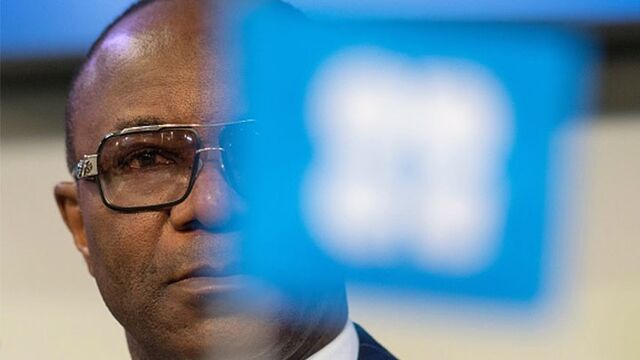 Emerging-market stocks fell for a fourth day and a gauge of currencies weakened to record low as a selloff in crude exacerbated concern that a stronger dollar will lure money away from riskier assets when the Federal Reserve increases U.S. interest rates.
Cnooc Ltd., China's biggest offshore oil and gas producer, dropped 4.9 percent and Lukoil PJSC led declines on Russia's Micex Index after OPEC said Friday it will keep pumping about 31.5 million barrels a day. Petroleo Brasileiro SA paced losses in Sao Paulo. Colombia's peso fell to the lowest ever against the dollar as exchange rates in energy-producing nations tumbled. Venezuelan bonds climbed after a victory for opposition parties. Indian tobacco companies retreated on concern they'll be taxed more than a proposed national levy.

OPEC's decision worsened sentiment on the revenue prospects of oil-producing countries such as Russia and Saudi Arabia as futures traders put the probability of a Fed interest-rate increase this month at 78 percent, further denting the allure of riskier assets. Payrolls in the U.S. climbed by 211,000 last month, more than economists had predicted, reinforcing the view that the U.S. economy can withstand the first interest-rate increase in almost a decade.
The output move "negatively impacted the oil bulls," said Tony Hann, the head of equities at Blackfriars Asset Management in London, who holds a smaller proportion of energy stocks relative to the MSCI developing-nation benchmark and prefers consumer-oriented companies. "There has been an expectation that as growth recovers then the oil price will recover and so weak oil is seen as an indication of the world economy continuing to struggle. I think 2016 is another tough year."
Fed Outlook
The MSCI Emerging Markets Index decreased 0.6 percent to 807.79, bringing its decline this year to 16 percent, on course for the worst annual performance since 2011. Stocks on the gauge trade at an average valuation of 11.1 times projected 12-month earnings, a 30 percent discount to the MSCI World Index of developed-country shares, which has fallen 1.4 percent in 2015.
"Most investors are still digesting the immediate impact from a very likely increase in U.S. rates this month," Indra Mawira, an investment manager at Panin Asset Management, said in Jakarta. "It signals the recovery of the U.S. economy, but some investors might want to consider the immediate impact from that decision. Falling oil is affecting some energy exporters negatively." He said he's buying selectively for the long term.
Investment inflows to U.S. exchange-traded funds that buy emerging market stocks and bonds reached a six-week high in the period ended Dec. 4, led by China and Hong Kong.
Stocks
Nine out of 10 industry groups in the MSCI Emerging Markets Index fell on Monday, paced by a 2.5 percent retreat in energy stocks. Cnooc decreased the most since Oct. 8 as Brent crude plunged 5.3 percent to $40.73 a barrel, the lowest since February 2009. Lukoil slumped 3.2 percent to the lowest level since Oct. 30. The Micex Index slid 0.8 percent. Russia is the world's biggest energy exporter, deriving about 50 percent of government budget revenue from the industry.
Measures in Saudi Arabia and Dubai each retreated at least 1.3 percent, dragging the Bloomberg GCC 200 Index of equities in the Persian Gulf region down 0.7 percent. The Ibovespa declined 0.1 percent, led by a 4.3 percent slump in Petrobras.
India, China
In India, ITC Ltd., the nation's biggest tobacco producer, tumbled 6.7 percent. A government panel proposed an unified sales tax of 16.9 to 18.9 percent, while recommending a "sin, demerit rate" of about 40 percent on luxury cars, aerated beverages, tobacco and tobacco products.
The Shanghai Composite Index rose for the fifth time in six days as health-care, technology and consumer-discretionary companies rallied, overshadowing declines for brokerages after Citic Securities Co. said it has been unable to contact two executives.
China will cut the trading hours for stock-index futures contracts and introduce a circuit-breaker mechanism from January, the government announced Friday. Citic Securities fell 1.9 percent after it said two members of its eight-person executive committee, its highest decision-making body, can't be reached.
Currencies
An index tracking 20 developing-nation currencies weakened 0.8 percent to an all-time low. Colombia's peso was the worst performer, slumping 3.2 percent. The Russian ruble declined 2 percent. Mexico's peso fell 1.3 percent.
South Africa's rand fell 1 percent, while the South Korean won led declines among Asian peers, also weakening 1 percent. The Chinese yuan slipped 0.1 percent after the central bank lowered the currency's reference rate by the most in a month and the nation's foreign-exchange reserves slid to the lowest since 2013.
"Emerging-market currencies will be biased to weakening through to the Fed next week," said Jason Daw, head of Asia currency strategy at Societe Generale SA in Singapore. "The won is probably one of the more liquid proxies to express a bearish or bullish view on emerging markets in Asia."
Venezuela's 2027 dollar bond gained 2.5 cents to 44.63 cents on the dollar. The country's opposition alliance won a majority in Congress for the first time in 16 years in elections on Sunday, with preliminary results giving the opposition at least 99 seats of the 167 up for grabs in the National Assembly.
The premium investors demand to hold emerging-market debt rather than U.S. Treasuries widened three basis points to 399 according to JPMorgan Chase & Co. indexes.
Before it's here, it's on the Bloomberg Terminal.
LEARN MORE