U.S. to Unveil New Terror-Alert System for Home-Grown Threats
Chris Strohm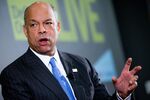 The U.S. will modify its warning system to alert citizens and companies about terrorist threats, replacing a two-tiered system with one it says is better suited to modern threats such as the attacks in California last week.
The challenge is to effectively communicate potential threats that are part of a new pattern of attacks by terrorists -- whether inspired or directed -- by foreign groups, Homeland Security Secretary Jeh Johnson said at a conference in Washington Monday.
"We need to do a better job of informing the public at large what we are seeing," Johnson said. "We've moved to a new phase in the global terrorist threat that involves not just terrorist-directed attacks from overseas but terrorist-inspired attacks here in the homeland and other countries."
The revised system comes as the Obama administration is struggling to uncover terrorist plots being planned under the radar of U.S. intelligence and law enforcement agencies. A mass shooting in San Bernardino, California last week left 14 people dead while an attack in Paris last month killed more than a hundred people. In both cases, the assailants evaded law enforcement as they plotted their attacks.
Johnson said he plans to travel to London on Tuesday to meet with U.K. authorities to increase information sharing efforts regarding the travel of suspicious individuals. He said the Homeland Security Department also plans to deploy Customs and Border Protection officers to 10 additional airports abroad to screen travelers before they fly to the U.S. The department currently does pre-clearance screening at 15 foreign airports.
Obama Address
U.S. President Barack Obama, in address to the nation Sunday from Washington, said the mass shooting in California showed that the terrorist menace is evolving toward less sophisticated, harder to detect plots.
The National Terrorism Advisory System, the warning system being updated in the coming days, has too high a bar, Johnson said. It has two levels for elevated and imminent threats and was created to replace the often-criticized color-coded alert system put in place after the Sept. 11, 2001, terrorist attacks.
Johnson said "we need to go to a new system that has an intermediate level to it" without providing more details. Johnson directed a review of the system earlier this year.
"The terrorist-inspired attack domestically is a harder challenge," he said. "It could happen at a moment's notice."
The U.S. has no specific credible intelligence that a terrorist attack like the one in Paris is being plotted in the U.S., Johnson said.
Vilifying Muslims
The Islamic State terrorist group claimed credit for organizing the Paris attacks and said the San Bernardino shooters were supporters. The FBI is investigating the California shooting as a terrorist attack.
"Given the nature of the Islamic State, a large segment of their fighting force are foreign terrorist fighters," Johnson said. "We want to know and we need to know who those people are."
Johnson cautioned, however, against vilifying Muslims. "In the current environment, the answer cannot be to vilify all American Muslims or to drive them into hiding in this country," he said. "Now more than ever we need to work with the Muslim community."
Before it's here, it's on the Bloomberg Terminal.
LEARN MORE