Clemson Seizes on No. 1 Ranking With Munis for Football Facility
by
$20 million of $211 million deal will finance on-campus center

13-0 Clemson team will face Oklahoma in Orange Bowl on Dec. 31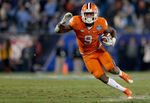 Clemson University's football team is ranked No. 1 and heading to the College Football Playoff. It's about to get top-notch facilities to match.
The South Carolina school plans to issue $211 million of tax-exempt debt Wednesday in an auction among underwriters, with about $20 million designated for a new center for the football team, offering documents show. The on-campus location will boast locker rooms, meeting spaces and coaches' offices, in addition to areas for players to eat, work out and receive medical attention. It will add on to the existing indoor practice facility.
"The facility will allow for all football-related activities to take place in close proximity and increase the competitiveness of the University's football facilities relative to its peers," according to offering documents.
College football is big business, with companies including Nike Inc., Under Armour Inc. and Adidas AG paying the top programs millions of dollars a year for apparel contracts and some bowl-game payouts topping $1 million. That's led to a facilities arms race as schools compete to lure the best high-school recruits.
The Atlantic Coast Conference paid Clemson about $26 million in the 2014-2015 fiscal year, mostly in connection with sports broadcasts, with $18 million coming from football, offering documents show. That's the highest distribution in at least a decade, and up from $8.8 million 10 years ago. Its athletic department brought in $87 million of operating revenue, the highest in at least five years.
Undefeated Season
Clemson's football team is 13-0, capping off an undefeated regular season with a 45-37 win over North Carolina in the ACC championship game on Dec. 5. It will face Oklahoma in the Orange Bowl on Dec. 31 in Miami Gardens, Florida. The winner advances to the National Championship game on Jan. 11.
Clemson wouldn't be the first university to issue municipal bonds during a winning streak. Last year, the University of Connecticut priced $220 million of debt as its teams advanced to the Final Four of the men's and women's national college basketball tournaments. Both were crowned national champions.
Clemson, with more than 16,000 undergraduates, will also issue $191 million of bonds to fund student housing, a bookstore and dining facilities, according to offering documents. Moody's Investors Service rates those securities Aa2, the third-highest grade. The football-center debt is ranked Aa3, one step lower.
Brett Dalton, Clemson's vice president for finance and operations, didn't immediately return a voicemail left at his office seeking comment.
Before it's here, it's on the Bloomberg Terminal.
LEARN MORE