Citigroup Said to Fall Under ECB Supervision After Units Combine
by
Unit would have about $57 billion in assets, filings show

Merger of businesses said to be unrelated to Brexit concerns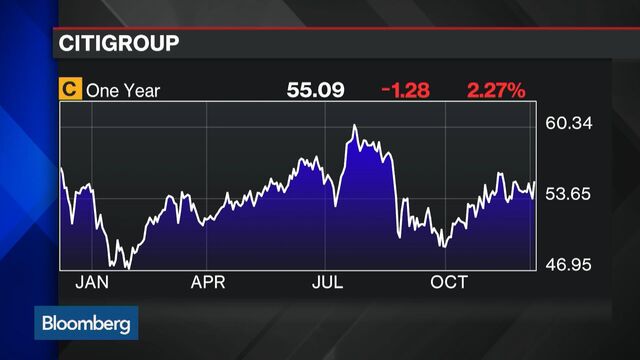 Citigroup Inc.'s move to simplify the legal structure of its banking operations in Europe will probably place it under direct supervision by the continent's central bank for the first time, said two people with knowledge of the matter.
A combination of Citibank Europe Plc in Dublin and the U.K.'s Citibank International Ltd. will likely make it subject to direct European Central Bank supervision by breaching the 30 billion-euro ($32 billion) threshold of total assets, said one person, who asked not to be identified because the matter is private. The merger, set for Jan. 1, will create a business with about $57 billion of assets, based on end-2014 accounts.
Direct ECB oversight would see the Frankfurt-based regulator vet board and senior management appointments. It may also subject the lender to stress tests and capital buffers reflecting its view of the business's riskiness. Citibank Europe would be supervised by a joint team of Irish and ECB regulators.
"We are combining these two legal entities as part of our global strategy to create a simpler, stronger and safer institution," Emma Hynes, a spokeswoman for the bank in Dublin, said without elaborating. Officials at the ECB and the Irish central bank declined to comment.
Shareholder Pressure
Citigroup has committed, under regulatory and shareholder pressure, to simplify its structure and cut its number of legal entities to reduce risks after being bailed out during the financial crisis. The New York-based lender has said the merger won't materially affect products, services or staffing, with London remaining its operational hub for European consumer banking. The deal, approved by the Irish High Court last month, would join capital currently held separately in each entity, one of the people said.
A successful combination of the two units will count as a "positive factor" in setting 2015 bonuses for the group's U.K. and Ireland operations heads, James Bardrick and Aidan Brady, and 12 other directors of the two boards, filings show. Citigroup has some 2,300 employees in Ireland.
The decision to merge the businesses isn't related to concerns that Britain may exit the European Union in a referendum to be held as early as 2016, one of the people said. Ireland accounts for four out of 123 so-called significant euro-area lenders subject to direct ECB supervision, after the Frankfurt-based central bank assumed full control in 2014.
The firms under ECB supervision, including European units of Bank of New York Mellon Corp., State Street Corp. and Royal Bank of Canada, account for more than 80 percent of banking assets in the region and face tougher balance-sheet scrutiny as regulators seek to avoid a repeat of the government-led bailouts during the financial turmoil. Less significant banks are overseen by national authorities in cooperation with the ECB.
Before it's here, it's on the Bloomberg Terminal.
LEARN MORE