Photographer: Andrew Harrer/Bloomberg
Charting the Markets: Focus Shifts From the ECB to the Fed
The euro falls for a second day, oil holds below $40 after OPEC meeting and Electrolux shares slump.
by
Global stocks are little-changed on Monday, with the after-effects of last week's European Central Bank meeting and U.S. jobs report still being felt. U.S. employers added a forecast-beating 211,000 positions in November, while the previous month's figure was revised up to a gain of 298,000. Asian equities are taking their cue from the biggest jump in the S&P 500 Index since Sept. 8. Investors have only another nine days until the Federal Reserve announces what could be the first rate hike in almost a decade. European stocks rebounded from the biggest weekly drop since August.

After the biggest one-day surge in over six years on Thursday, the euro is falling for a second day. On Friday evening ECB President Mario Draghi defended his measures, saying Thursday's package wasn't "meant to address market expectations." He also stressed the ECB is ready to do more if needed. A stronger dollar has been one of the reasons the Fed has been reluctant to raise interest rates, as it makes American companies less competitive internationally and damps prices on imports. Last week a Bloomberg gauge of the dollar against 10 of its leading global peers had its biggest weekly drop in two months, making it a little easier for the Fed to raise interest rates next week.

What next for OPEC? That's the question being asked after the cartel binned the idea of limiting production to control prices. OPEC will keep pumping as much as it does now - about 31.5 million barrels a day - after the 30 million barrels a day ceiling was abandoned as too rigid. A production target has been in pace almost without interruption since 1982. Crude oil has sunk 37 percent since OPEC maintained output a year ago to squeeze out rivals such as U.S. shale drillers. They next key level is $38.24, the six-year low reached on Aug.24.

Electrolux shares plummeted the most in four years after General Electric abandoned plans to sell its appliance business to the Swedish company. The $3.3 billion deal, which was first announced in September 2014, failed to win approval from competition regulators on concern the combined company, along with Whirlpool, will dominate the U.S. cooking-appliance market. Electrolux was relying on the combination to gain scale in the key U.S. market after buying the Frigidaire brand. It had proposed "reasonable" measures to the U.S. Department of Justice that it says should have got the deal through. GE is entitled to a a break-up fee of $175 million.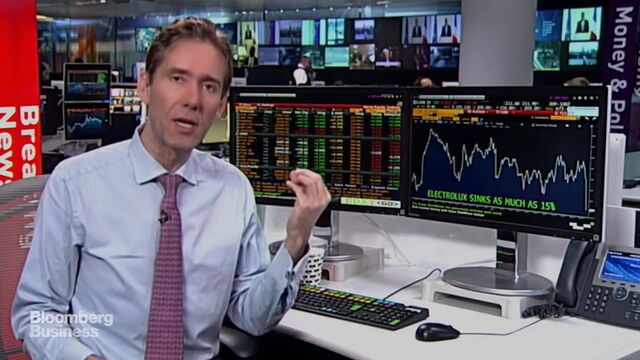 Mark Barton is a presenter on Bloomberg TV. Follow him on Twitter @markbartontv 
Before it's here, it's on the Bloomberg Terminal.
LEARN MORE